include discontinued items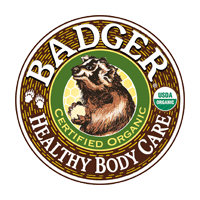 Badger
100% Natural, totally good.
Now USDA Certified Organic.
Leaping Bunny Certified.
100% Vegetarian.
Gluten Free.
The key to all these super Balms, creams and oils is in the ingredients. Powerfully pure, natural and Organic Botanicals thoughtfully prepared with the intention to soothe and comfort.
Badger never use synthetic chemicals, fragrances, parabens, GMOs or any other bad stuff you don't want to put on your skin.
Additional Information
Every ingredient used is grown and processed with the highest degree of respect for protecting the environment, the workers and the natural properties of the plants.
Nearly all of Badger's products are made from 100% USDA Certified Organic food grade ingredients.
They formulate simple, natural products using traditional methods and plant-based ingredients that have been gently extracted.