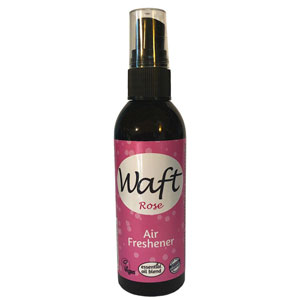 Key Info
A Waft of Rose
Essential Oil Blend
Description
Bring a delightful waft of plant-based natural fragrance into your home. Waft Rose is one of our 98.5% organic signature aromatic air freshener blends. Waft Rose has a plant based sweet floral aroma that will fragrance your space and help ease anxiety and stress.The stylish has a vibrantly coloured label that represent a burst of fragrance and will look stylish anywhere around your home. Made with pure essential oils & rose water.
Free From
Chemicals
Vegan and not tested on animals.
Recyclable bottles.
Made in the UK.
To Use
Shake well.
Point into air space to be fragranced and pump a few times as required.
Point away from eyes and body.
Store in a cool dry place out of direct sunlight.
Ingredients