USPA Tangerine & Rose Flower Satin Body Moisturiser
---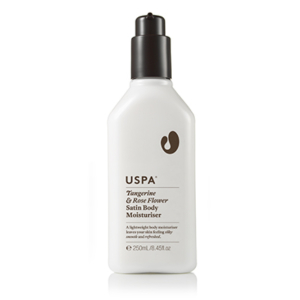 USPA
Tangerine & Rose Flower Satin Body Moisturiser
250ml pump bottle
£12.00 was £18.00 (save 33%)
Add to Basket
Key Info
For All skin types, Especially those desiring a lightweight hydration
Description
This lightweight formula with skin softening Sweet Almond Oil and soothing Lavender and Chamomile is perfect for daily use.
This gentle moisturiser with refreshing and uplifting Tangerine and Rose is a sublime aromatic experience.
Benefits
Plant oils provide soft and supple skin
Protects from dehydration resulting from environmental exposure
Lightweight for fast absorption
Includes
German Chamomile Extract- reduces inflammation and improves skin texture and reduces fine lines and wrinkles. High in antioxidant properties.
Sweet Almond Oil- Provides a moisturising and softening effect. Rich in Vitamins D and E to protect, nourish, reduce scar tissue and relieve dry skin conditions (eczema, psoriasis and rashes).
Sesame Oil - High in zinc, an essential mineral for producing collagen and giving skin more elasticity. Rich in antioxidants, Vitamin E, lecithin, minerals, proteins and amino acids. It is also anti-bacterial, anti-fungal, antiviral and anti-inflammatory.
Coconut Oil- Improves the moisture and absorbs slowly. This means the skin stays moist for longer without reapplication.
Tangerine and Rose Essential Oils - Uplifting citrus notes with subtle rose undertone.
Free From
Parabens, Mineral Oil, Petrochemicals, Colourants.
To Use
Apply a small amount into the palms of your hands and massage over your entire body for a completely hydrated body.
Ingredients