Aloe Pura Organic Aloe Vera Lotion
---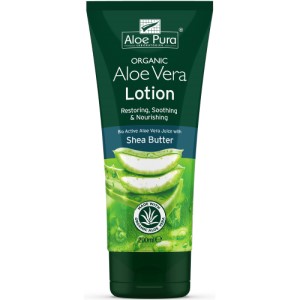 Aloe Pura
Organic Aloe Vera Lotion
200ml tube
£5.59 was £6.99 (save 20%)
Add to Basket
Catalog ref: AP-1095
Key Info
Bio Active Organic Aloe Vera Juice
With Shea Butter
Restoring, Soothing & Nourishing
Description
Produced from pure Aloe Vera inner gel, capturing the maximum nutritional activity of the Aloe Vera plant.
This soothing lotion moisturises, softens and helps restore dry and damaged skin. It can be applied to stretch marks, scars, dry, chapped skin, sun burn, skin irritations and minor burns.
Includes
Aloe Vera leaf juice
Beeswax
Shea Butter
Cocoa Seed Butter
Vitamin E
Vitamin A
Hyaluronic Acid
Sweet Clover extract
Mallow extract
German Chamomile extract
Benefits
Soothing, Restoring, Moisturising, Nourishing.
Free From
All Aloe Pura skin care products are free from Perfumes, Colours, Unnecessary Additives, SLS & Parabens.
To Use
Apply liberally to skin.
Ingredients
---
Product Comments & Customer Reviews
" This Lotion has been marvellous on my dry skin " AK, Redditch
" Your Aloe Pura products are the best I have found anywhere, both for quality and value for money. Thank you. " M. S., Harrogate
" absolutely marvellous. Cant get over improvement to my legs " AK, Redditch
" Organic Aloe Vera Lotion has worked wonders on my dry skin having tried almost every other cream. Wonderful! " P.B., Cheshire
" The Aloe Vera Lotion is wonderful stuff - I can't be without it. " EMH, Derby
" BRILLIANT PRODUCT AT A GOOD PRICE. " MS, Harrogate
" I love this product. Have sensitive skin and this is perfect for me. Absorbs well doesn't leave you feeling at all greasy. " JR, Coventry
" Lovely product, one of the best Aloe products you can buy. " S.S., Ipswich