Tints of Nature Permanent Colour - 6TF Dark Toffee Blonde
---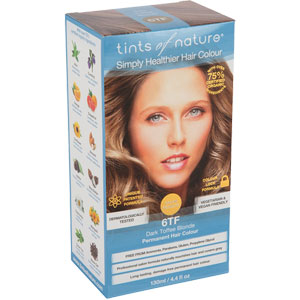 Tints of Nature
Permanent Colour - 6TF Dark Toffee Blonde
120ml net
£10.95
Add to Basket
Catalog ref: TN-6TF
Key Info
simply Healthier Permanent Hair Colour.
Gently covers grey hair.
Ammonia, Resorcinol and Parabens Free.
Description
The first long lasting, permanent hair colour to use an advanced formula containing natural ingredients to cover all grey hair.
The unique blend of natural extracts, Aloe Vera, Comfrey, Orange, Grapefruit and Vitamins E & C, combined with plant-derived conditioners, will actually enhance, protect and moisturise as you colour.
If you want to enhance your natural colour or make an exciting colour change, Tints of Nature will leave your hair looking radiant and healthy.
Allows damage free results (ammonia swells the hair shaft and lifts the cuticle.
Maintains the hair's natural moisture and protein balance.
Smells pleasant to use with no Ammonia Gas to be inhaled.
Includes
Certified Organic Aloe Vera to moisturise and cool the scalp during the colouring process.
Certified Organic Comfrey Extract for its soothing and healing properties.
Certified Organic Roman Chamomile - the finest of all and rich in natural azulin, renowned for its calming and healing.
Certified Organic Orange and Grapefruit Extract.
Plus Wheat Protein and Vitamins A & C.
Easy to apply - you simply add the bottle of colour gel to the colour fix, shake well, apply to dry hair and leave for up to 30 minutes.
The pack also contains a sachet of Tints of Nature Shampoo to remove excess colour and Conditioner to fix the colour and enhance shine.
Both Shampoo & conditioner will help to maintain colour and prevent fading and they are available in full sized bottles Tints of Nature Shampoo and Tints of Nature Conditioner.
Box Contents:
Colour Gel.-50ml bottle.
Colourfix-50ml bottle.
Disposable gloves.
Tints of Nature Shampoo - 10ml sachet.
Tints of Nature Conditioner - 10ml sachet.
Full Instructions Leaflet.
Free From
Parabens
Resorcinol
Ammonia.
Benefits
Contains Certified Organic Ingredients.
Perfect grey coverage.
Ingredients
Custom Colours
One of the great things about the Tints of Nature Hair colours is that you can mix different shades to create your own unique look.
For example:
TN-5N Natural Light brown with TN-7D Medium Golden Blonde - Result - A light brown with golden tones.
TN-4CH Rich Chocolate Brown with TN-7N Natural Medium Blonde - Result - A lighter tone of rich brown.
Colour Selection And Icc
Because of the more natural method used by Tints of Nature, the colour of the hair can only be lifted by one shade (meaning you can only lighten your hair by one level).
Each of the colours is described by a number followed by a letter. This is called an ICC number. Ranging from 1 (darkest) to 10 (lightest), the number signifies the depth of colour.
Available colours:
Natural Black
Natural Dark Brown - a Rich Natural Brown.
Rich Chocolate Brown - Dark Brown with Warm Tones.
Natural Medium Brown - a Neutral Brown.
Dark Henna Red - a Deep Red Brown.
Medium Mahogany Brown - a Rich Plum Brown.
Rich Copper Brown - Warm Brown with Deep Red tones
Natural Light Brown - a Neutral Medium depth Brown.
Light Golden Brown - a warm Brown with Rich Golden tones.
Dark Toffee Blonde - a soft Golden Brown tone.
Medium Red Copper - a rich Bronze with Red Tones.
Dark Ash Blonde - a deep Blonde with Peppery Grey tones.
Medium Golden Blonde - a warm Blonde with rich Gold tones.
Natural Medium Blonde - a Neutral Tone.
Medium Mahogany Blonde - a Medium shade with soft plum tones
Soft Copper Blonde - a Medium shade with warm Red tones
Light Henna Red - a light Shade with Rich Red Tones.
Natural Light Blonde - a Neutral tone with hints of Gold.
Light Ash Blonde - a creamy Grey Blonde with hints of Silver.
Natural Platinum Blonde - a blend of Silver and Gold tones.
Extra Light Blonde - the lightest Platinum Blonde.
Please contact us if you are interested in any shade not currently available.
Instructions
Hair colourants can cause allergic reactions. Please read and follow the instructions included.
This product is not suitable for use on persons under the age of 16.
Temporary 'black henna' tattoos may increase your risk of allergy.

Do not colour your hair:
If you have a rash on your face or sensitive, irritated and damaged scalp.
You have ever experienced any reaction after colouring your hair.
You have experienced a reaction to a temporary 'black henna' tattoo in the past.
Contains phenylenediamines.
Sensitivity test must be done 48 hours before use.
Do not use to dye eyelashes or eyebrows.
Rinse hair well after applying mixture.
Avoid contact with eyes. Rinse eyes immediately if product comes into contact with them.
Never keep left over mixture.
Wear the enclosed gloves.
Keep out of reach of children.
---
Product Comments & Customer Reviews
" Was very pleased with the hair colour and seems very gentle on scalp " JP, Hastings
" Very pleased with this-I've long,fine,curly hair and the colour has not damaged it at all and looks really good.Although my hair is fine,there is alot of it and this pack size was more than adequate to cover it all. " J.D., Brentwood
" This is the best home hair colourant I have ever used. Doesn't irritate the scalp, smells nice and the colour is great, natural looking and lasts well. I have even had a compliment from my hairdresser " AH, Colchester
" Tints of Nature Hair Colour gave my hair a lovely natural colour without harsh chemicals. The Shampoo and Conditioner leaves my fine hair light, no heaviness,shiny and in good condition- Well done! " S.H., Grantham.
" I really liked the Tints of Nature hair colour.It was much less harsh than the shop brands. " K. L., London
" Just to let you know that I am over the moon with the hair dye in my last order. It has coloured so well and has left my hair sleek, soft & shiny! I will definitely be ordering this again when the time come to dye it again. The dye was tints of nature. Thank you! " EF, Ibstock
" Permanent Hair Colour is great! " A.T. CRAVEN, Arms.
" I really liked the Tints of Nature hair colour. It was much less harsh than the shop brands " KL, London
" I love your Hair Colour products,and today my hairdresser complemented me on my hair colour and condition! " A.F., Telford.
" Tints of nature is the best hair dye I have ever used! " AM, Nantwich
" Very pleased with this - I've long, fine curly hair and the colour has not damaged it at all and looks really good. Although my hair is fine, there is a lot of it and this pack size was more than adequate to cover it all. " JD, Brentwood
" pleased with the hair colour " CL, Maidenhead