Manuka Honey Skin-Brightening Eye Cream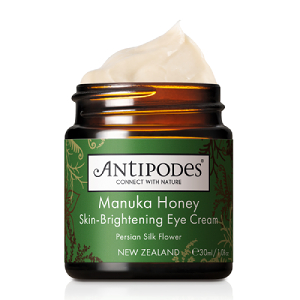 30ml jar
£32.40 was £36.00 (save 10%)
Add to Basket
Catalog ref: TI-168
Key Info
Targets dark circles, brightens, and moisturises the delicate under-eye area.
Description
World-renowned manuka honey from New Zealand boasts potent moisturising properties to hydrate and freshen the under-eye area in this vegetarian eye cream - Manuka Honey Skin Brightening Eye Cream.
Benefits
Persian silk flower blends with revolutionary antioxidant rich Vinanza® grape seed and kiwifruit to help brighten delicate tissue.
Manuka Honey Eye Cream harnesses the benefits of manuka honey freshen and hydrate the under-eye area.
Suited to oily and blemish-prone skin types.
This rich Manuka Honey Eye Cream is certified vegetarian by the UK Vegetarian Society, the oldest and most respected vegetarian and vegan organisation in the world.
Includes
Key Ingredients
Manuka Honey
The benefits of manuka honey for skin are celebrated across the globe. World-famous manuka honey is an antibacterial superfood found only in New Zealand that helps promote youthful, fresh and blemish-free skin.
Persian Silk Flower
Known for its anti-aging properties, Persian silk flower helps to hydrate and freshen delicate skin.
Free From
Antipodes is committed to repurposing, reusing and recycling, including using recyclable boxes made from 100% biodegradable cardboard derived from sustainable forests as well as glass bottles, aluminium tubes and printing with 100% eco ink from vegetables.
To Use
Used every morning and evening, this hydrating Manuka Honey Eye Cream can reduce dark circles. Incorporate into your routine by following these steps:
1. First cleanse with Juliet Skin-Brightening Gel Cleanser.
2. Then pat this eye cream tenderly onto the skin under and around your eyes.
Ingredients