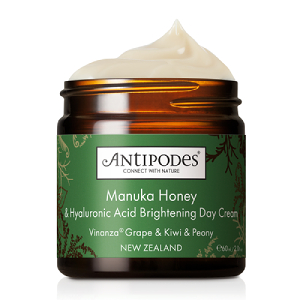 60ml jar
£40.00
Sorry, out of stock
(mid April)
Catalog ref: TI-148
Key Info
A brightening moisturiser that is rich in hydration but light on skin.
Suited to most skin conditions, especially oily.
Description
Restore a fresh-looking visage with Manuka Honey Skin Brightening Light Day Cream featuring New Zealand bioactive ingredients.
Benefits
Mamaku black fern contributes to a renewed visage while plant-sourced hyaluronic acid freshens and plumps.
World-famous manuka honey, renowned for its health giving benefits, helps to address the appearance of any skin blemishes.
Antioxidant-rich Vinanza® Grape & Kiwi from award-winning grape seeds and kiwi fruit blends with peony flower allow Manuka Honey Day Cream to provide the ultimate skin-bright finish.
The skincare benefits of manuka honey make this light day cream an effective moisturiser that hydrates and brightens skin.
Antioxidant-rich Vinanza Grape & Kiwi is clinically shown to help improve the appearance of skin by targeting redness and pigmentation. * (*Independent study by New Zealand Extracts (2012): The eight-week clinical study involving 10 women showed Vinanza® Grape & Kiwi helps improve skin appearance).
Includes
Key Ingredients Hyaluronic Acid
Plant-based hyaluronic acid, produced from the fermentation of a bacterium found in soil and roots, supports skin hydration.
Manuka Honey
World-famous manuka honey is an antibacterial superfood found only in New Zealand that helps promote youthful, fresh, and blemish-free skin.
Free From
Antipodes products are completely free from: parabens; sulphates; phthalates; silicon derived ingredients; synthetic fillers; genetically modified (GM) ingredients; genetically engineered (GE) ingredients; animal ingredients (except ingredients from living bees, such as honey); artificial colours; artificial fragrances; chemical sunscreens; mineral oils; petrochemicals (like propylene glycol); phenoxyethanol; BHA (butylated hydroxyanisole); ethanolamines and ethoxylated ingredients.
To Use
Follow these steps when incorporating Manuka Honey Day Cream into your skincare routine:
Use every morning
Apply this light skin cream generously to your face, neck and décolletage
Follow with Manuka Honey Skin-Brightening Eye Cream around the delicate eye area.
Ingredients