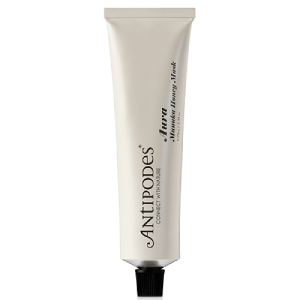 75ml tube
£25.20 was £28.00 (save 10%)
Add to Basket
Catalog ref: TI-125
Key Info
Suited to most skin types, especially blemish prone.
Description
Cleanse your skin and your spirit with this luscious vegetarian face mask. Aura Manuka Honey Face Mask leaves skin soothed and intensely hydrated.
Benefits
Wild-sourced manuka honey from New Zealand locks moisture into the skin, while helping to keep skin super fresh and blemish-free.
This nourishing face mask brings peace and balance to your aura with divine fragrances of vanilla pod and mandarin.
Free From
Antipodes products are completely free from: parabens; sulphates; phthalates; silicon derived ingredients; synthetic fillers; genetically modified (GM) ingredients; genetically engineered (GE) ingredients; animal ingredients (except ingredients from living bees, such as honey); artificial colours; artificial fragrances; chemical sunscreens; mineral oils; petrochemicals (like propylene glycol); phenoxyethanol; BHA (butylated hydroxyanisole); ethanolamines and ethoxylated ingredients.
To Use
Incorporate Aura Manuka Honey Mask into your skincare routine by following these simple steps:
Use at night once or twice a week, or whenever your skin needs it.
Smooth thick layers of this deliciously creamy mask over your face and neck.
Leave for 15 minutes (or overnight) then rinse with warm and pure water.
Ingredients