Tisserand Aromatherapy Explore Travel Kit
---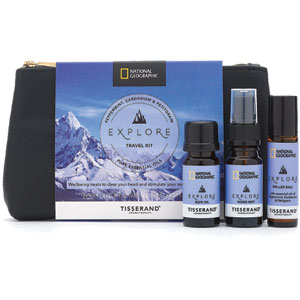 Tisserand Aromatherapy
Explore Travel Kit
1x travel bag
Discountined, no longer available.
Catalog ref: TD-TK02
Key Info
Peppermint, Cardamom & Petitgrain Essential Oils.
Wellbeing treats to clear your head and stimulate your senses on the go.
Description
Transport yourself above the clouds to a mountainside with piercing blue skies and fresh clean air.
The Explore Travel Kit includes a travel sized bath oil, mood mist and a roller ball in the Explore blend, containing Petitgrain, Cardamom and Peppermint 100% natural pure essential oils.
The Explore blend is a fresh, invigorating aroma to clear your head and stimulate your senses.
Housed in a reusable vegan cosmetic bag, this collection of travel-sized treats, will help you to escape life's turbulence on the go.
In partnership with National Geographic, this range celebrates the positive impact exploring has on our wellbeing, while contributing to a happy planet with recycled and recyclable packaging.
Purse Contains
Explore Bath Oil x 9ml
Explore Mood Mist x 9ml
Explore Roller Ball x 10ml
Includes
Revitalising Peppermint refreshes the mind and body for a brighter outlook, making you feel alert and alive.
Energising Cardamom stimulates the senses and helps calm the respiratory system, encouraging a breath of fresh air.
Refreshing Petitgrain takes you outdoors with its fresh green aroma, inspiring a sense of adventure.
Free From
Petrochemicals, SLS/SLES, parabens, fragrance, colourants, phthalates
100% natural.
To Use
Explore Roller Ball 10ml: Roll onto pulse points for an instant mood boost.
Explore Bath Oil 9ml: Infuse a bath with a few drops of oil and swirl to disperse. Add more oil to enhance fragrance.
Explore Mood Mist 9ml: Spritz above your head and allow the aroma to rain down for an instant mood boost.
Ingredients