Salcura Shampoo Anti-Itch
---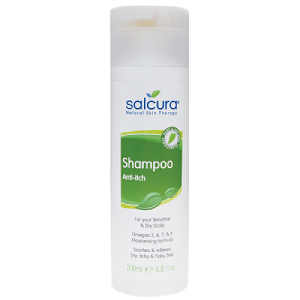 Key Info
For your Sensitive & Dry Scalp
Omega 3, 6, 7 and 9 moisturising formula.
Soothes & relieves Dry, Itchy & Flaky Scalp
Description
Salcura Natural Shampoo is suitable for daily cleansing of very dry, sensitive scalps that are prone to irritation and inflamation including itching and flaking. The unique moisturising formula consists of natural cleansing agents, vitamins and minerals that immediately soothe and calm irritated scalps whilst gently cleansing the hair.
The ingredients used are naturally proven and highly effective for deep hydration and scalp skin nutrition. This easy to use, non greasy Omega rich formula restores scalp skin moisture levels whilst helping to further strengthen and protect the scalp and hair.
Benefits
Packed with Omegas 3, 5, 7 & 9 thanks to the brilliant Sea Buckthorn berry. Often times a dry scalp is an indicator of an Omega 3 and vitamin deficiency. Sea Buckthorn is a brilliant ingredient, containing not just lots of Omegas but it also contains more Vitamin C than an orange!
It contains other vital skin-essential nutrients from ingredients like Frankincense, Argan, Sunflower and Rosemary to help soothe, moisturise and protect the scalp.
Frankincense to reduce redness, Argan to deeply moisturise the skin, Sunflower as a great source of Vitamin E and Rosemary to promote a healthy scalp.
Includes
Sea Buckthorn Oil
Borage Oil
Starflower Oil
Frankincense Oil
Rosemary Extract
Sunflower Oil
Argan Oil
L:emongrass Oil
Free From
Steroids, Paraffin, Sodium Laureth Sulfate and Sodium Laurel Sulfate (SLES & SLS), Parabens, Petroleum Jelly, Diethanolamine (DEA), Phthalates or Synthetic Fragrances.
To Use
Apply the Omega Rich Shampoo to wet hair. Gently massage it into the scalp and hair. Leave it to soak in for a little while and rinse the Shampoo out, preferably with lukewarm water.
Use the Omega Rich Conditioner after the Shampoo to achieve maximum results.
Ingredients
---
Product Comments & Customer Reviews
" This is the best shampoo for my itchy, dry scalp. I have tried many and this one definitely works the best. " EH, Market Harborough