Hope's Relief Dry, Itchy, Flaky Scalp Conditioner - Formula 2
---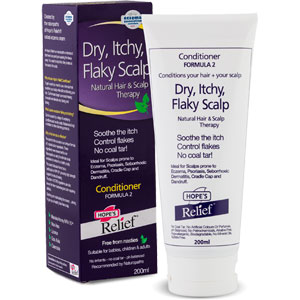 Hope's Relief
Dry, Itchy, Flaky Scalp Conditioner - Formula 2
200ml tube
£17.99
Add to Basket
Catalog ref: PB-SF2
Key Info
Natural Hair & Scalp Therapy
Soothes and controls itchy, flaky scalp.
For scalps prone to Eczema, Psoriais, Dermatitis, & Dandruff.
Description
Formulated to soothe your scalp and control the flakes without ingredients that may irritate the skin and eyes.
Leaves your hair soft and conditioned.
Helps relieve a sensitive itchy, flaking scalp associated with dry skin, eczema, psoriasis, dandruff, dermatitis.
Also ideal for healthy scalps.
Gentle and suitable for babies, children and adults.
Includes
5 Active Natural Ingredients:
Calendula.
Manuka Honey.
Aloe Vera.
Licorice.
Gotu Kola.
Free From
Sodium Laurel Sulphate.
Coal tar.
Artificial Colours.
Perfumes.
Petro chemicals.
Mineral oils.
pH balanced.
Alkaline free.
Hypo-allergenic.
Sulfate free.
Benefits
3 in 1 benefits:
Contols itchy scalp and flaking.
Moisturises - penetrates the scalp to soften dry, flaky skin.
Conditions -leaves hair soft, extra body and manageable.
The non irritant ingredients make this conditioner also ideal for use for Babies, Children and Adults.
Not tested on animals.
Biodegradable.
To Use
Itchy, flaky scalp
For maximum results for itchy scalp initially use Formula 2 after Formula 1 daily for 2 weeks minimum. Then Formula 2 can be used as desired for ongoing conditioning and manageability.
Daily use and conditioning
After shampooing with Formula 1 Shampoo wet hair thoroughly, massage Formula 2 Conditioner into scalp. Leave 2-3 minutes
Rinse well
Dry hair gently.
Therapeutic Skincare
Healthy scalp, healthy hair.
Formula 2 Conditioner is an integral part of a 2 stage program. A highly concentrated formula using 5 active herbal ingredients.
Revitalises your scalp plus conditions your hair for a healthy shine with more body, manageability and flake free.
Ingredients
---
Product Comments & Customer Reviews
" Both the shampoo & conditioner are really amazing. I've had an itchy scalp, psoriasis and eczema. Basically it's just clearing up. " VP, Cheadle
" 2 great products. I recommend them highly. Really work " SH, Romsey
" This shampoo and conditioner has been fantastic and for the first time in years I do not have a flaky or itching scalp. Would highly recommend " SH, Romsey