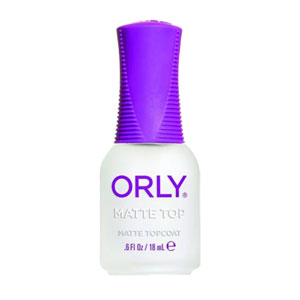 Key Info
Matte finish topcoat.
Provides a matte finish to any lacquer.
Description
You can turn any glossy lacquer into a matte finish for that unique satin effect.
This formula includes silica to provide a chip-resistant topcoat and to naturally matify the polish finish for a satin look.
Benefits
Turns glossy finish nail polish to a satiny, matte finish on nails.
- Chip resistant formula
- Gives long lasting manicures
- Quick drying on nails
Free From
Formulated without DBP, Formaldehyde and Toulene. ORLY is Camphor Free, Animal Bi-product Free & Free from Animal Testing
To Use
Apply one or two coats over your favourite nail lacquer for a matte look.
Matte Topcoat can be applied in sections leaving other sections shiny for distinct results. This can add interesting contrast in surfaces, for instance, you can create a new version of French manicure.
Ingredients