Orly Cutique Cuticle & Stain Remover
---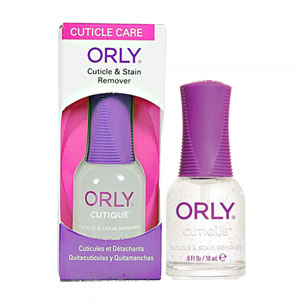 Orly
Cutique Cuticle & Stain Remover
18ml bottle
£12.75
Add to Basket
Catalog ref: OR-036E
Key Info
Cuticle care
Cuticle & stain remover.
Grooms cuticles for healthy nail growth.
Description
Gently removes dead tissue, making cuticles soft and pliable. Removes dead tissue around the cuticles to allow for strong and healthy nail growth.
Also removes stains and makes nails appear whiter, giving them a healthy appearance. A great manicure and pedicure all-rounder.
Includes
Moisturising Sesame Oil.
Free From
DBP, Toluene, Formaldehyde, Parabens.
To Use
Shake well. Apply to cuticles and leave for 30-60 seconds and then gently push back with a hoof stick or orange stick. Rinse thoroughly with warm water.
Caution
Do not leave on nails for more than 5 minutes. Not for use on sensitive skin.
Ingredients