Mother Earth Avocado Organic Night Cream
---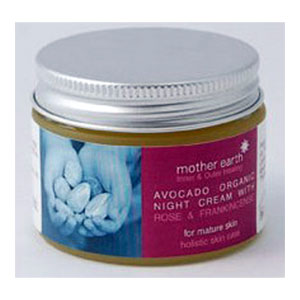 Mother Earth
Avocado Organic Night Cream
30ml glass jar
£25.00
Add to Basket
Catalog ref: MT-ONC
Key Info
With Rose & Frankincense.
For mature skin.
Holistic skin care.
Description
A rich, rejuvenating night cream to encourage the healthy renewal of the skin cells and replenish moisture lost over time. Helps to prevent premature wrinkling by drawing on natures heavy-duty skin repairers to increase elasticity and improve fine lines and wrinkles.
Has to be tried to be believed.
Includes
Almond Oil
Comfrey Oil
Avocado Oil
Lavender Oil
Rose Oil
Frankincense Oil
Free From
Petrochemicals, artificial ingredients, parabens, colourants, fragrances.
To Use
As these organic oils are light as well as being rich, this cream spreads easily.
Massage a little into the skin last thing at night. Leave to soak in as it does not behave like normal white creams.
The effect on the skin is well worth the adjustment to your beauty regime.
Ingredients