Martha Hill Intensive Nail & Cuticle Treatment
---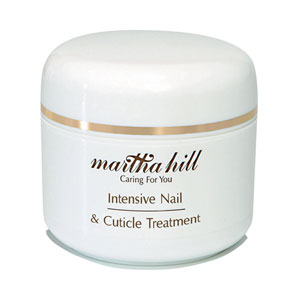 Martha Hill
Intensive Nail & Cuticle Treatment
50ml jar
£9.50
Add to Basket
Catalog ref: MH-138
Key Info
A super rich nourishing cream.
With tea tree, lavender & rosemary essential oils.
Description
A rich cocktail of nourishing and moisturising oils and extracts combined to create the ultimate in nail treatments.
The rich blend includes Flax Seed Oil to nourish dry brittle nails stopping them from cracking or splitting. Beeswax, Shea Butter, Sweet Almond Oil and Lanolin work together to moisturise and protect helping to maintain smooth supple cuticles and promote healthy nail growth. Pure essential oils of Lavender and Tea Tree maintain nail health, soothe sore damaged cuticles and may help prevent fungal infections.
Includes
Shea Butter
Flax seed oil
Sweet Almond oil
Panthenol
Beeswax
Castor seed oil
Soy protein
Lavender oil
Tea Tree leaf oil
Rosemary leaf oil
Aloe Vera leaf powder
Lanolin
Free From
Artificial colour
Fragrance
Mineral oil
Parabens preservative.
To Use
Massage the rich cream into nails and cuticles every morning. Re-apply at night and gently buff the nails to help stimulate circulation.
Ingredients
---
Product Comments & Customer Reviews
" Have tried many nail and cuticle products but always come back to this. It is by far the best. " MW, Peterborough
" I write to say how pleased and impressed I am with your Intensive Nail & Cuticle Treatment Cream. I had dermatitis many years ago and though I have used another recommended cream it never really cleared my hands but now your product has and in fact all your products I have used are really good. Thank you " BM, Emsworth
" Intensive Nail & Cuticle treatment is the best product I have ever used. My nails & cuticles are in tip-top condition - no winter 'hacks' at all this year! " JER, Kinross
" Martha Hill Nail & Cuticle cream is the best I've ever used - nothing else comes near it. " JER, Kinross
" I have had problems with nail growth and this product is particularly amazing. " L.C., Woking
" Wonderful nail treatment - this one is for my daughter! " SEB, Pinner
" Must let you know, I brought intensive nail & cuticle treatment, I am so pleased with the results. " AJ, Clacton-On-Sea
" Intensive Nail & Cuticle Cream - the most marvellous product. The only one that works on my nails. " F, Axminster
" You recommended this for my weak, flaky nails and it has worked wonders. " IE, Glenrothes
" Must let you know, I brought intensive nail & cuticle treatment, I am so pleased with the results. " AJ, Clacton-On-Sea
" When I'm in a hurry and can't be doing with a brush or dropper, my go-to is Martha Hill Intensive Nail & Cuticle Treatment (£8). Purse friendly, and containing tea tree, lavender and rosemary essential oils, this is a super-rich cream that not only sorts cuticles, but seems to make my nails grow in tougher too. " BLOG, Style Nest
" So happy that this product is back! " MF, Deal
" Nails look smooth and healthy and cuticles soft and supple after just a few days. New nail growth is definitely stronger and they no longer split and break. Also works wonders on the back of hands as a hand cream! " OUR, Tester
" This product is brilliant. Recommend it to others. " LR, Northampton
" Really really good product. Had a nail infection and it cleared it up wonderfully, wouldn't be without it. " JM, Milford Haven
" I would also like to say how much I love this new nail cream - a much better product than the cuticle cream I used to order! Thank you. " FM, London
" I've just used up my first jar of Intensive Nail & Cuticle Treatment - it's very good. " W, Warwick
" Intensive nail is working in my cracked nails Thankyou! I will try the creams in my face " LPC, London
" I have been using this product for a few weeks now morning and night.I absolutely love this product! I noticed almost straight away when first applying this on to my cuticles it smoothed everything out and made them look more healthier. Since I have been using this product I have noticed my cuticles look and feel much more healthier no rough skin or dryness. Overall I highly recommend this product for anyone who wants to have healthier nicer looking cuticles. " BLOG, Sassy Little Nails
" Nail treatment wonderful so buying for presents now! " SEB, Pinner
" Just wanted to say thank you for the prompt delivery of my order of intensive nail and cuticle cream. I'm sure it will help, it seems a nice cream to apply. " MAM, Corby