Lab Nat Organic Footbath Salts - Anti Odor
---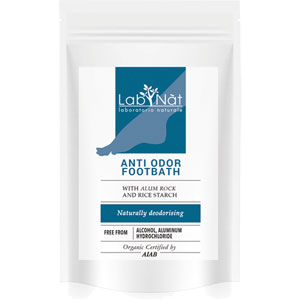 Lab Nat
Organic Footbath Salts - Anti Odor
180g bag
£7.00
Add to Basket
Catalog ref: LN-509
Key Info
To heal & refresh feet & legs.
AIAB Certified.
Description
Rapidly dissolving salts to relieve fatigue, limit excessive sweating and gives a pleasant feeling of freshness for a long time. Thanks to rock alum and rice starch, your feet become soft.
Choose from Anti-Odour, Refreshing or Relaxing.
Choose From
Anti-Odour
With Alum Rock and Rice Starch. Helps prevent the formation of a bad smell. Eases fatigue and improves skin health. Leaves skin soft and velvety.
Refreshing
With Alum Rock and essential oil of Lavender and Menthol. Refreshes and gives a pleasant feeling of cleanliness and lightness.
Relaxing
With Alum Rock, lactic acid and menthol, it helps to relieve redness and exfoliates dead skin improving appearance and texture.
To Use
Dissolve 25g in warm water and soak feet.
Ingredients
---
Product Comments & Customer Reviews
" The Lab Nat Relaxing Footbath Salts are absolutely fabulous. They're really, really good " JC, Norwich