The Konjac Sponge Company Eye Cleansing Pads - Duo Pack
---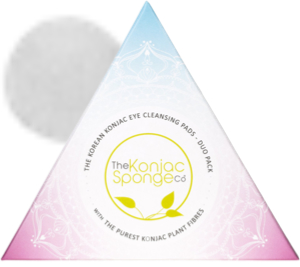 The Konjac Sponge Company
Eye Cleansing Pads - Duo Pack
1 pack of 2
£4.50 was £5.00 (save 10%)
Add to Basket
Catalog ref: KJ-ET20
Key Info
With the purest Konjak Plant Fibres.
The Eco Alternative to Cotton Wool or Wipes.
Description
The completely reusable Konjac Eye and Make-Up Cleansing Pads are the kindest way to remove make-up and delicately exfoliate the eye area. Designed to help maintain healthy and clean skin around the delicate eye area.
Leaves the skin hydrated, bright and refreshed.
The wafer-like circle structure of 100% pure konjac fibres should be saturated under warm water and then gently squeezed. Then simply add a small amount of your favourite cleansing product to remove your oil-based make-up.
After the sponge's life is spent, it can return to the ground, in its biodegradable form. The packaging is completely biodegradable too.
Packaged in a beautiful card Triangle Wallet made with FSC card which is biodegradable.
For water-soluble makeup or no make-up at all, no additional cleansers are required. Rinse well and allow to dry between use.
Benefits
Gently exfoliates the delicate eye area
Helps reduce puffiness and dark circles
Supports healthy cell renewal
Biodegradable & Compostable
Last longer than cotton wool pads
Kind to the skin & environment
Removes water-based & normal makeup (with a little cleanser)
Reusable & can last between 1-3 months
Made to travel
Made in South Korea on the island of Jeju
Includes
100% Natural
Certified Vegan & Cruelty-Free
Free From
100% colouring & additive-free
Ingredients
About Konjak
Konnyaku (Konjac) has been used in Korea, Japan and China for over 1,500 years as medicine, food, a dieting aid and in beauty products. It has been highly prized for its health giving properties. Our pure Konjac is certified Vegan and Cruelty Free. It is also 100% biodegradable and fully sustainable.