Jason Simply Coconut Strengthening Toothpaste
---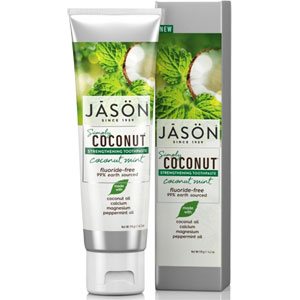 Jason
Simply Coconut Strengthening Toothpaste
119g tube
£5.99 was £7.49 (save 20%)
Add to Basket
Catalog ref: JS-433
Key Info
Coconut Mint.
Fluoride Free.
99% Earth sourced.
With Coconut, Calcium, Magnesium & Peppermint Oil.
Description
Perk up your smile with the simple wholesomeness of Coconut Oil. Made with only the most essential ingredients from the earth, the Simply Coconut Strengthening Toothpaste harmoniously combines Virgin Coconut Oil with invigorating Magnesium, Calcium and Peppermint Oil to give your teeth a healthy sparkle.
Plus, the energizing Coconut Mint taste leaves your breath fully fresh and exhilarated.
It's your time to smile and shine.
Includes
Aloe Vera, Magnesium, Calcium & Peppermint Oil
Free From
No Fluoride
No SLS
No Parabens
No Artificial Colors
No Artificial Sweeteners
No Saccharin
No Propylene Glycol
No Gluten
To Use
Adults and children 2 years of age or older should brush after each meal (or at least twice a day, or as directed by a dentist or physician).
Children under 6 should use only a pea sized amount of paste and be supervised as necessary.
For children under 2, check with a dentist or physician before using.
Ingredients