Jason Powersmile Anti-Cavity & Whitening Toothpaste (Gel)
---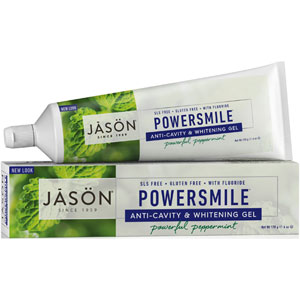 Jason
Powersmile Anti-Cavity & Whitening Toothpaste (Gel)
170g tube
£8.49
Add to Basket
Catalog ref: JS-427
Key Info
All Natural Powerfull Peppermint
With Fluoride
Description
Features an exclusive blend of natural polishers and stain-fighting botanicals, including Bamboo Powder, Calcium Carbonate, Baking Soda and Silica, to help prevent tartar buildup while gently whitening and brightening your smile.
Naturally derived Fluoride helps strengthen tooth enamel to fight cavities, while CoQ10 and Natural Aloe Vera Gel soothe irritated gums.
For a brilliantly white smile and fresh breath, use PowerSmile toothpaste and mouthwash twice a day.
Includes
Aloe Vera
Bamboo Powder
Natural Fluoride
Grapefruit Extract
Parsley Extract
Free From
Sodium Lauryl/Laureth Sulfates
Preservatives
Artificial Colours
Artificial Sweeteners
Saccharin
Propylene Glycol.
Benefits
Prevention of cavities Suitable for sensitive teeth
Tartar control
Fresh breath
Whitening.
To Use
Adults and children 2 years of age and older: Brush Teeth thoroughly, preferably after each meal, or at least twice a day, or as directed by a dentist or physician.
Children under 2: Consult a dentist or physician.
Children under 6: Use a pea sized amount.
Ingredients
---
Product Comments & Customer Reviews
" My favourite toothpaste " ML, Tintagel
" Love Jason toothpaste " ML, Tintagel
" Luv this toothpaste gel. " ML, Tintagel
" My new find is the Jason Powersmile Toothgel with flouride and it's very good. " KC, Sheffield