Jason Men's Forest Fresh Dry Spray Deodorant
---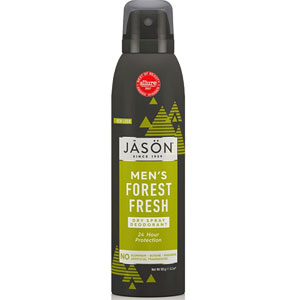 Jason
Men's Forest Fresh Dry Spray Deodorant
90g spray
£9.00
Sorry, out of stock
(January)
Catalog ref: JS-235
Key Info
24 Hour Protection.
Clinically tested 24 Hour Odour Protection.
Description
Enjoy the carefree feeling of 24-hour odour protection you can rely on.
The clinically tested formula goes on clean and dries in an instant with no residue on skin or clothing.
Easy-to-use continuous spray can uses compressed air—not chemical propellants.
Benefits
Get clean, dry protection - in an instant!
Clinically tested 24-hour odor protection
No residue on skin or clothes
Sprays using compressed air - no chemical propellants
Includes
Bergamot Oil
Orange Oil
Lemon Oil
Eucalyptus Oil
Clove Oil
Free From
Aluminum, butane, parabens, phthalates, artificial fragrances, petrolatum, sodium laureth sulfate (SLS),
To Use
Hold can 6 inches from skin. Spray onto underarm for quick-dry freshness.
Ingredients