Jason Extra Strength Vitamin E 32,000 IU Skin Oil
---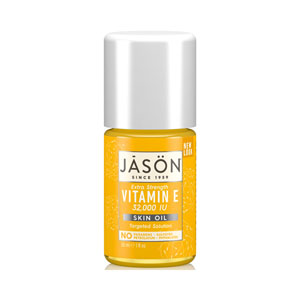 Jason
Extra Strength Vitamin E 32,000 IU Skin Oil
30ml bottle
£11.49
Add to Basket
Catalog ref: JS-206
Key Info
Extra Strength Pure Natural Skin Oil.
Description
Vitamin E Oil 32,000 IU Extra Strength is a super rich, emollient treatment, perfect to target problem areas. With use, its skin smoothing, antioxidant power helps minimize the appearance of scars and stretch marks.
Label may vary from the image shown.
Includes
Formulated only with Tocopheryl Acetate 32,000 I.U.
(IU = international unit). This is a unit used to measure the activity or effect of a vitamin, not the volume or weight.)
100% natural.
To Use
Gently massage on face, body and hands. Reapply as needed
About Vitamin E
We all know that eating foods that are high in natural Vitamin E, such as green, leafy vegetables, wheat germ and spinach are good for your health. But, using Vitamin E Oil topically also has incredible benefits.
Vitamin E is said to have powerful effects on cellular functions by acting as an antioxidant and thus protecting cells from free radicals. This oil's ability to deeply penetrate the skin has made it one of the most widely used natural oils today.
Topical use of this natural oil helps to minimise fine lines, improves skin tone, texture and elasticity. It can help soothe minor sunburn.
It will also help reduce the damage to your skin from being exposed to the sun's harmful ultraviolet (UV) rays.
Simply apply Vitamin E directly onto the sunburned areas twice a day until the skin is healed.