Giovanni Blackberry & Coconut Milk Repairing Hot Oil Hair Treatment
---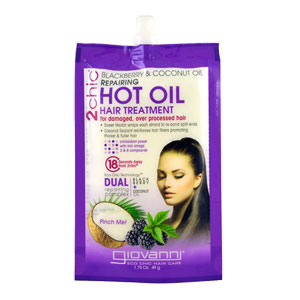 Giovanni
Blackberry & Coconut Milk Repairing Hot Oil Hair Treatment
49g pouch
£5.00
Add to Basket
Catalog ref: GV-230
Key Info
For damaged over-processed hair.
Dual repairing complex.
Description
To rejuvenate. strengthen and restore hair with the exclusive Dual Repairing Complex, an essential blend bursting with antioxidant power combining fresh Blackberries and the organic oils of Coconut.
Energize each strand by drenching hair in protection and moisture while restoring silky tresses from damage.
Benefits
Sweet nectar wraps each strand to re-bind split ends
Coconut sealant reinforces hair fiber promoting thicker & fuller hair
Deep Condition
Includes
Coconut Oil
Macademia Extract
Shea Butter Extract
Argan Oil
Blackberry Extract
Cocoa Keratin Extract
Free From
Parabens, dyes or PEGs to this product
To Use
Stove-Top Heating Directions:
1. Heat water in a pot.
2. Pour heated water into a heat-safe cup.
3. Place sachet into the heated water for 60 seconds or until oil is melted and warm. If needed, knead product until oil has completely liquefied.
4. Shake well.
5. Check temperature, if sachet is too hot, let it sit to cool until desired temperature is reached.
6. To re-heat, repeat steps 1 through 5.
Can also be heated in a microwave.
Applying to Hair / Scalp Directions:
Use caution as product will be hot.
1. Open sachet by twisting off the cap.
2. Apply the warm oil onto wet or dry hair and scalp.
3. Massage onto dry or wet hair for 25 seconds.
4. Leave treatment in for 15-20 minutes, for best results leave in overnight.
5. Shampoo and rinse.
6.Repeat this treatment as often as desired.
Ingredients