Giovanni Blackberry & Coconut Milk Repairing Conditioner
---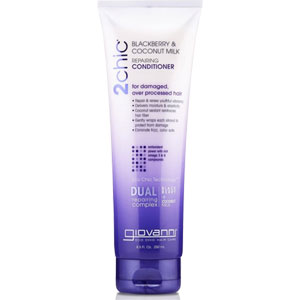 Giovanni
Blackberry & Coconut Milk Repairing Conditioner
250ml tube
£9.00
Add to Basket
Catalog ref: GV-222
Key Info
For damaged over-processed hair.
Dual repairing complex.
Description
Rejuvenate. Gorgeously restore moisture. Drench every strand from roots to ends in a rich compound of omega 3 & 6 that's filled with super antioxidants.
Strengthen your hair with the exclusive Dual Repairing Complex, an essential blend bursting with antioxidant power that combines freshly ripened Blackberries and the sweet delicate nectar of Coconut Milk. Energize each strand by drenching hair in protection and moisture, restoring tresses from damage.
Nurture your hair with a fusion of the highest antioxidant filled superfoods.
This ambrosia of intoxicating deliciousness will give you the ultimate repairing experience leaving hair with the strongest cross of nutrition and replenishment. No more dry or damaged hair.
Benefits
Repair and renew youthful vibrancy
Delivers moisture & elasticity
Coconut sealant reinforces hair fiber
Gently wraps each strand to protect from damage
Eliminates frizz
Color safe
Antioxidant Power with Rich Omega 3 & 6 Compounds
Includes
Blackberry Extract
Coconut Extract
Jojoba Oil
Coconut Oil
Shea Butter Extract
Argan Extract
Macademia Extract
Panthenol
Vitamin E
Acai Extract
Free From
Parabens, lauryl or laureth sulfate, dyes or PEGs
To Use
After cleansing with ultra-repair shampoo, massage in conditioner from roots to ends, coat each strand, wait 3 minutes, rinse. Hair will be revitalized.
Ingredients