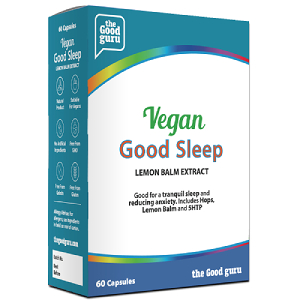 Key Info
Assists in providing a good sleep
Helps reduce anxiety
Helps boost mood and reduce pain
Natural product
Description
Vegan Good Sleep contains a unique blend of nutrients that support a night of restful sleep. It also includes L-theanine, 5HTP, Lemon Balm & Hops. 5HTP is used to make melatonin & serotonin. Calms the nervous system and helps you relax. Montmorency Cherries naturally contain melatonin the hormone that is usually produced during the night. It triggers sleepiness and aid a deeper quality sleep. L-Theanine induces a deep state of relaxation by raising the alpha wave activity the 'sleep brainwaves'. Lemon Balm is likely to reduce anxiety and promotes sleep 5HTP increases serotonin levels to restore healthy sleeping patterns ensuring you fall asleep quicker and have a longer quality of sleep. It can also help boost mood and reduce pain.
Free From
Gluten, GMO, gelatin and artificial ingredients
To Use
Take 2 capsules 20 minutes before bed. Do not exceed the recommended daily intake.
Ingredients