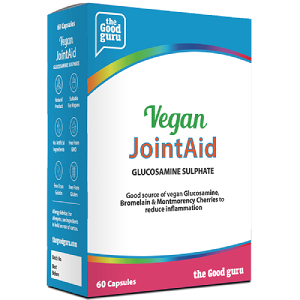 Key Info
Natural vegan ingredients to reduce inflammation
Description
Vegan JointAid contains 1500mg of vegan Glucosamine Sulphate, Bromelain and Montmorency Cherries. Montmorency Cherries have anti-inflammatory properties and help with joint mobility. Vegan Glucosamine - Reduces symptoms of osteoarthritis and provides pain relief. Montmorency Cherry - Extract may support pain relief, recovery of joints and symptoms of gout. Bromelain - reduces muscle soreness and inflammation.
Free From
Gluten, artificial ingredients, GMO and gelatin.
To Use
Take 1 capsule, 3 times a day with food. Do not exceed the recommended daily intake.
Ingredients