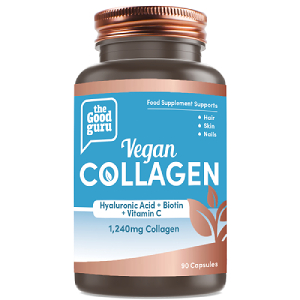 Key Info
Accelerates hair growth
Reduces hair loss and premature greying
Supports hair, skin and nails
Includes Hyaluronic Acid, Biotin and Vitamin C
Description
Our hair is under constant stress and this could be from air, water, dust, allergens, and chemicals in beauty products. Hormones, genetic makeup, diet, seasonal changes, and external factors, all have an influence on the hair growth cycle, the hair becomes dry, breaks easily, luster is lost and it looks so dull. Like other tissues, our hair has to face the wear and tear process. It needs nourishment so our diet has an important role. Most of the components of our hair are protein and it plays a very crucial part in maintaining the health of hair. Various elements like zinc, copper, iron, calcium, cadmium, silicon, chromium, and sulfur are also present in our hair. Each follicle of the hair gets nourishment through the blood vessels. Providing all the nutrients, especially proteins is very important in a hair care regime.
Benefits
AMLA POWDER
Amla has ample Vitamin C which plays a significant role as an antioxidant. It helps prevent oxidative damage. The Vitamin C present in Amla is important for the synthesis of collagen. Amla has high iron that helps in hair growth and the fatty acids improve overall health. The phytonutrients in Amla provide nourishment to the scalp and strengthen the roots. It prevents premature greying and dandruff. It also prevents dryness and frizzy hair.
SPIRULINA POWDER
It is a highly nutritious superfood. It is rich in calcium, selenium, iron, potassium, phosphorus, manganese, magnesium, copper, essential amino acids, fatty acids, vitamins B1, B2, B3, B6, B9, and beta-carotene. It enhances energy, controls weight, regulates blood pressure, lowers bad cholesterol, and improves muscle strength. It improves cognitive functions and nourishes the bones, skin, and eyes. It has anti-allergic, anti-cancer, anti-inflammatory, and anti-viral actions.
SEA BUCKTHORN POWDER
It has vitamins A, B, C, and K, magnesium, potassium, and copper
GRAPE SEED EXTRACT
It has vitamins E, calcium, zinc, iron, magnesium, potassium, and copper
NEEM POWDER
Neem has anti-bacterial, anti-fungal, and anti-inflammatory properties. It helps fight scalp infections and keeps them healthy. It prevents dandruff, itchy scalp, and redness. It promotes hair growth by enhancing the blood supply and removing toxins. The antioxidants, fatty acids, and vitamin E promote the health of the hair.
BARLEY GRASS POWDER
Barley grass is rich in vitamins A, C, B2, B6, B12, and K, fiber, potassium, magnesium, pantothenic acid, phosphorus, iron, calcium, chlorophyll, proteins, flavonoids, polyphenols, and beta-carotene. It keeps weight under control, flushes toxins by its diuretic action, regulate cholesterol, and promotes immunity, and skin health.
BHRINGARAJ POWDER
Bhringraj is widely used in hair care products individually and in formulations. It promotes hair growth, strengthens hair roots, and prevents greying & dandruff. It improves scalp blood circulation thereby providing all the essential nutrients like vitamins D & E, calcium, iron, and magnesium. The anti-inflammatory and anti-fungal actions help fight infections, irritation, and dry and itchy scalp.
PUMPKIN SEED POWDER
Pumpkin seeds have a protein named cucurbitacin that prevents hair fall. It is packed with zinc, magnesium, copper, manganese, selenium, fatty acids, vitamin C, and an anti-oxidant that provide nourishment and promote hair growth.
ACAI BERRY POWDER
It is rich in anti-oxidant. It also has zinc, copper, iron, magnesium, phosphorus, chromium, vitamin A, calcium, healthy fat, manganese, and potassium. It helps keep cholesterol in control and lessens the damages caused due to free radicals. It improves brain functions and has anti-inflammatory actions also.
BAMBOO EXTRACT
It is rich in silica which encourages the formation of collagen. It also aids in reducing the signs of ageing.
MATCHA GREEN TEA
It is a rich source of antioxidants. It prevents inflammation and oxidative stress. It acts as liver-protective and improves attention and memory. It regulates lipids and triglycerides thereby promoting heart health. It keeps weight under control by boosting metabolism.
GOJI BERRY POWDER
It has Vitamin A, C, and iron
LIQUORICE EXTRACT
It has Vitamin B1, B2, B3 & B6, iron, calcium, potassium, phosphorus, selenium, and sodium.
BEETROOT POWDER
Beetroot is a rich source of iron and it helps improve scalp circulation. The nutrients like proteins, fiber, magnesium, potassium, manganese, phosphorus, and vitamins B & C provide adequate nourishment to the hair follicles. Its anti-bacterial property helps fight scalp infection and anti-oxidant action aid in delaying the early ageing effects on the hair. Beetroot is a natural source of sugar and is loaded with dense nutrients. It is high in nitrate which helps control blood pressure and vascular functions. It has anti-oxidant, anti-cancer, anti-inflammatory, and anti-diabetic properties. It is highly effective in the treatment of arthritis, liver, and heart diseases.
BIOTIN
Biotin or Vitamin B7 promotes healthy hair by adding volume, moisturizing, and improving its texture. It is likely to reduce peripheral nephropathy in diabetes. It helps treat brittle nails. It nourishes the skin and keeps it supple and moisturized. It promotes brain functions, prevents inflammation, and supports the repair of worn-out muscular tissues. It also enhances cognitive functions.
VITAMIN C
It plays a vital role in building the body's immune functions. It promotes collagen build-up and aids in wound healing.
HYALURONIC ACID
It promotes skin softness and moisture levels. The moisturizing effect aids in dry eyes, and joint lubrication. It also speeds up wound healing. It maintains bone health.
Free From
Gluten, artificial ingredients, GMO and gelatin
To Use
Take 2 capsules daily with food. Do not exceed the recommended daily intake.
Ingredients