Dr.Jacobs Naturals Charcoal Castile Liquid Soap
---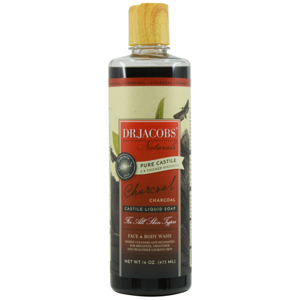 Dr.Jacobs Naturals
Charcoal Castile Liquid Soap
437ml bottle
£12.70
Add to Basket
Catalog ref: DJ-CH16
Key Info
Pure castile soap.
Double the viscosity.
For all skin types.
Description
This Charcoal Pure Castile Body Wash is a miracle detoxifier with sage and lavender essential oils. Generating purifying bubbles to remove dirt, dead skin cells and excess oil, revealing a brighter-looking complexion. Purifying activated charcoal deeply cleanses and unclog pores for a fresher, smoother looking skin. The soap is a true three-in-one product that naturally cleanses and softens the skin.
Made with antioxidant rich olive and coconut oil (never palm oil), this natural Castile soap has the ability to moisturize, while keeping your skin hydrated all day with no oily residue.
Formulated for sensitive to very dry skin conditions such as eczema. Gentle enough for the whole family, even your four pawed family.
Benefits
Ultra Moisturising – with added aloe vera and vitamin E
Double Viscosity – for a luxurious thicker feel
Palm Oil Free – Suitable for all ages and gentle on even sensitive skin
100% Natural & Vegan – biodegradable and gluten free
Includes
Coconut Oil
Olive Oil
Aloe Vera
Sage Oil
Lavender Oil
Activated Charcoal
Free From
Parabens, petrochemicals, sulfates, phthalates, GMO's and gluten free.
Vegan
Made in USA
To Use
Pour on a washcloth, sponge, or hand. Lather and rinse. It can be used as a body wash, face wash, shampoo, pet/dog shampoo, shaving cream, laundry detergent, all-purpose cleaning spray, household cleaner....the uses are endless.
Ingredients