Beauty of Bath Reed Diffuser - Violet Jasminium Ginger
---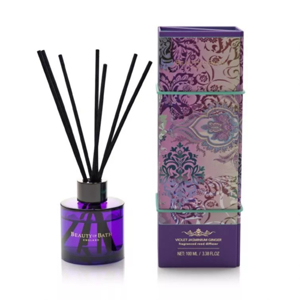 Beauty of Bath
Reed Diffuser - Violet Jasminium Ginger
100ml bottle + reeds
Discountined, no longer available.
Catalog ref: BJ-302
Description
A Beauty of Bath Violet Reed Diffuser will embrace your home with exquisite scents. Vibrant and rich, Violet Jasminium Ginger is the perfect combination of sweet floral and spicy citrus scents. Discover citrus top notes and base notes of patchouli and black pepper.
Beautiful prints, gold highlights and a pop of turquoise adorn the opulent presentation box.
Inspired by the local city of Bath, combining vintage and contemporary design influences. The sophisticated purple glass bottle and black reeds will add a touch of drama to your home décor.
To Use
Unscrew the black collar of the bottle, remove the plastic stopper and re-screw the black collar onto the bottle. Insert reeds into the bottle to absorb the perfume and begin to diffuse the aroma throughout the room. Invert reeds every 2-3 days, when saturated, or to refresh and intensify fragrance.
Please note: The stoppers are designed to avoid any leakage, however If you are struggling to remove it from the glass bottle, we suggest using a teaspoon.
Ingredients