Beauty of Bath Reed Diffuser - Vanilla Baies Rouges
---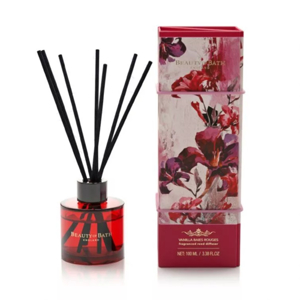 Beauty of Bath
Reed Diffuser - Vanilla Baies Rouges
100ml bottle + reeds
£8.45 was £16.95 (save 50%)
Add to Basket
Catalog ref: BJ-301
Description
A Beauty of Bath Vanilla Reed Diffuser will embrace your home with exquisite scents.
A true delight, comforting and delicate, Vanilla Baies Rouges is an infusion of deliciously sweet and exotic aromas. A true delight, comforting and delicate, Discover fruity top notes with patchouli undertones.
Floral prints, gold highlights and a pop of pink adorn the opulent red presentation box.The sophisticated red glass bottle and black reeds will add a touch of drama to your home décor.
To Use
Unscrew the black collar of the bottle, remove the plastic stopper and re-screw the black collar onto the bottle. Insert reeds into the bottle to absorb the perfume and begin to diffuse the aroma throughout the room. Invert reeds every 2-3 days, when saturated, or to refresh and intensify fragrance.
Please note: Our stoppers are designed to avoid any leakage, however If you are struggling to remove it from the glass bottle, we suggest using a teaspoon.
Ingredients