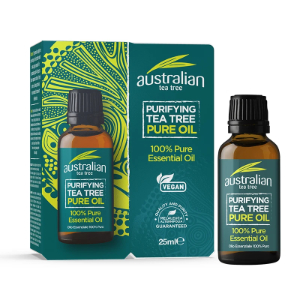 £8.29 was £10.39 (save 20%)
Sorry, out of stock
(end of September)
Catalog ref: AU-9300
Key Info
100% pure essential oil.
Vegan
Quality & Purity Guaranteed.
Description
Tea tree oil is a traditional essential oil used for thousands of years by the indigenous population of Australia. This unique oil has numerous benefits due to its purifying properties.
Australian Tea Tree products contain only the finest tea tree oil, grown and harvested in the rural areas of Australia. Each batch of Australian Tea Tree Oil is tested to ensure that it conforms to strict quality guidelines.
To Use
We recommend a skin patch test 48 hours before use.
For general use, dilute one drop of oil into water or apply 1 drop of oil directly onto cotton wool, then apply to a small area of skin.
As an aromatherapy oil add 5-6 drops to a bath or vaporiser, alternatively dilute in 10-15ml of carrier oil.
Store in a cool dry place away from direct sunlight.
Ingredients
Caution
If pregnant or suffering from a medical condition seek advice before use.
Avoid contact with eyes. If product gets into eyes rinse immediately with clean water.
Discontinue use if sensitivity occurs.
Do not apply to broken or irritated skin.
For external use only. Keep out of reach of children.
Product Comments & Customer Reviews
Australian Tea Tree - Purifying Tea Tree Oil
" I LOVE THE TEA TREE ANTISEPTIC OIL.IT IS BRILLIANT AND THE ORGANIC ALOE VERA GEL FOR BURNS. I BURNT MYSELF VERY BADLY ON MY WRIST & AFTER USING IT, DIDNT HAVE ANY SCARING!(I DID HOLD IT IN COLD WATER FOR A WHILE AS WELL) I KEPT IT COVERED FOR 2 DAYS. WONDERFUL STUFF!! " SK, Newhaven
" I would like to mention that your Tea Tree Oil is an effcient cure for cold sores - one dab at the very first sign of one appearing and it just disappears without ever reaching the crusty sore stage. " J.B. Shoreham on, Sea