AloeDent Aloe Vera Anti-Staining Smokers Toothpaste
---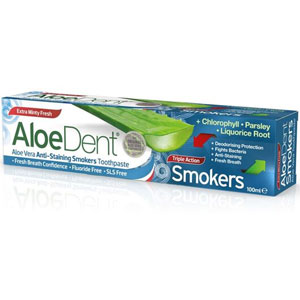 AloeDent
Aloe Vera Anti-Staining Smokers Toothpaste
100ml tube
£4.75
Sorry, out of stock
Catalog ref: AD-2010
Key Info
Extra minty fresh.
Triple action.
With chlorophyll, parsley, licquorice root.
Fresh breath confidence.
Flouride free, SLS free.
Description
An ant-staining and deodorising toothpaste combing soothing Aloe Vera, Icelandic Moss Extract and Liquorice Root Extract to naturally protect the gums and teeth.
This exceptional formulation also contains Chlorophyll, Parsley Extract and extra strong Peppermint for fresh breath confidence every time you brush.
Benefits
- Natural protection
- Fights bacteria
- Healthy gums
- Fresh breath
Includes
Aloe Vera - helps soothe gums
Tea Tree Oil - natural antiseptic
Icelandic Moss - for natural whitening
Silica - for natural whitening
Chitosan - antibacterial
Co Q10 - helps keep gums healthy
Liquorice - helps keep gums healthy
Parsley Extract - deodorising
Chlorophyll - deodorising
Escin - helps keep gums healthy
Peppermint & Menthol - natural flavour
To Use
Brush twice daily for healthy teeth and gums.
Related Product
To give your mouth that thoroughly clean sensation why not try AloeDent Alcohol Free Mouthwash?
Ingredients