Shampoo Massager
by Denman
To distribute shampoo or styling products throughout the hair.
Helps to cleanse the scalp and give a stimulating massage.
Description
This soft pinned brush will gently massage and stimulate the scalp to keep the hair and scalp healthy.
Use with shampoo to thoroughly cleanse the scalp or with conditioner or styling aids to ensure even application.
Wonderfully soothing and relaxing and with a handy strap for ease of use.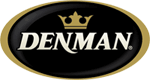 Denman.
Professional Hair Brushes and Combs.
UK Made
In 2013 the family run company celebrated the 75th anniversary of this iconic brand which is renowned for its exceptional standards of quality, performance and innovation.
The first Denman hairbrush was invented back in 1938 by John Denman Dean. Popularised in the swinging sixties by hairdressing legend, Vidal Sassoon, through his revolutionary blow-drying techniques.
Today, Denman manufactures in excess of 400,000 brushes and combs each month from its Northern Ireland based factory.