Well.Actually. Liposomal Vitamin D3+K2 1000 IU 25µg
---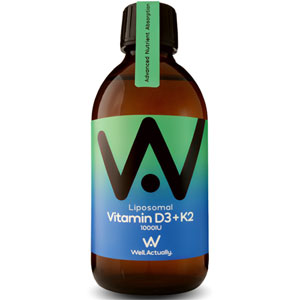 Well.Actually.
Liposomal Vitamin D3+K2 1000 IU 25µg
£25.99
Add to Basket
Catalog ref: WY-202
Key Info
Advanced Nutrient Absorption
Citrus Flavour
Available in either 1000 IU or 2000 IU
Description
Well.Actually. Vitamin D3 & K2 has been developed as a convenient and effective way to supplement the diet with vitamin D. It is perfect for the whole family.
The product contains plant-based Vitamin D3, plus K2, for better calcium absorption, encapsulated in millions of Liposome bubbles, easily recognisable by the body to ensure optimum absorption.
It can be taken directly or mixed with a cold drink, juice, or smoothie.
Benefits
Vitamin D contributes to:
Normal absorption/utilisation of calcium and phosphorus
Normal blood calcium levels
Maintenance of normal bones
Maintenance of normal muscle function
Maintenance of normal teeth
The normal function of the immune system
The process of cell division
Helpful for those who experience seasonal affective disorder (SAD).
Vitamin K2 contributes to:
Normal blood clotting
Maintenance of normal bones
Made in the UK to GMP / BRGS Standards
Great Tasting Citrus Flavour
Free From
No Added allergens.
No artificial colours or preservatives.
Gluten-Free
Vegan, Vegetarian,
To Use
Shake well before use.
Take 5ml (1 x teaspoon) per day. Can be taken directly or mixed with a cold drink, juice, or smoothie.
Do not exceed the recommended dose.
Take in the morning on an empty stomach.
60 Servings - just £12.99 per month
Flexible dosing makes it perfect for the whole family.
Take straight or mix with a cold drink
Ingredients
Cautions
Well.Actually. Vegan Vitamin D3 food supplement is generally safe to be taken alongside medications.
Food supplements must not be used as a substitute for a balanced diet and a healthy lifestyle. If you are pregnant, breastfeeding, taking any medications or under medical supervision, please consult a doctor or pharmacist before taking this supplement.
Contains Xylitol, excessive consumption may cause a laxative effect.
Vegan Vitamin D3 is plant based and safe for the whole family. It has no known side effects.
Take as recommended.
Do not exceed the individual 1 per day recommended intake.