Well.Actually. Neuro Night 5-HTP+
---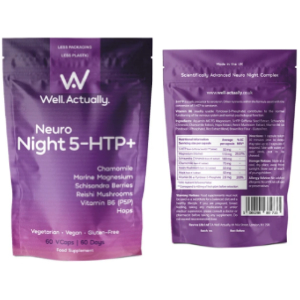 Well.Actually.
Neuro Night 5-HTP+
60 v cap pouch
£9.60 was £12.00 (save 20%)
Add to Basket
Catalog ref: WY-003
Key Info
Scientifically Advanced Neuro Night Complex
Food Supplement
Description
Provides a powerful, specific blend of seven vitamins, minerals, plants, and herbs to help support the body and mind to relax and transition to the normal onset of sleep.
With 5-HTP from fresh Griffonia plant extract, Marine magnesium in its ocean natural, bioavailable form, and 'active' B6 (pyridoxal-5-phosphate) which contributes to the normal functioning of the nervous system and psychological function. The combination of these ingredients, together with soothing and calming Chamomile & Hops, and hormonal balancing Reishi Mushroom & Schisandra, help restore calm in preparation for a relaxing night's sleep.
Benefits
5-HTP is a natural extract from the seeds of Griffonia Simplicifonia.
Powerful blend of seven vitamins, minerals, plants, and herbs.
Marine Magnesium - ocean sourced and a highly bio-available natural mineral.
Vitamin B6 in an active and readily usable form (Pyridoxal 5' Phosphate).
60 days' supply
Innovative enviro- conscious packaging option.
Suitable for Vegans and Vegetarians.
Includes
Chamomile
Marine Magnesium
Schisandra Berries
Reishi Mushrooms
Vitamin B6
Hops
Rice Extract & Brown Rice Flour
Free From
Vegan, Non-GMO, No Added Allergens, Artificial Colours or Preservatives. Gluten Free
To Use
1 capsule taken 30 minutes prior to sleep.
May take up to 2 capsules if required.
Take with water or cold drink, not to be chewed.
Do not exceed recommended dose.

Store in a cool, dry place, away from sunlight.
Store out of reach of young children.
Ingredients
Caution
Food supplements must not be used as a substitute for a balanced diet and a healthy lifestyle.
If you are pregnant, breast feeding, taking any medications or under medical supervision, please consult a doctor or pharmacist before taking any supplement.