Well.Actually. Vegan Vitamin D3
---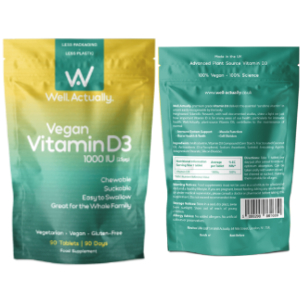 Key Info
1000 IU (25μg)
Chewable, Suckable, Easy to Swallow.
Great For The Whole Family.
90 Tablets / 90 Days
Description
Premium plant-based formulations to support immunity health, muscle function, strong bones, teeth.
Chewable plant-based premium-grade Vitamin D is an essential Vitamin to adults and children.
Vegan Vitamin D3 delivers the essential 'sunshine vitamin' in a form easily recognisable by the body.
Heightened Scientific Research, with well-documented studies, shine a light on just how important Vitamin D is for many areas of your health, particularly for the immune system.
Well.Actually. Chewable Vegan Vitamin D3 1000IU has been developed as a convenient way to supplement the diet with vitamin D and is perfect for the whole family. The product contains plant base Vitamin D, easily recognisable by the body to ensure optimum absorption.
Benefits
Immune System Support
Muscle Function
Bone Health & Teeth
Cell Division
Vegan,
Helpful for those who experience seasonal affective disorder (SAD).
Innovative conscious plastic free packaging.
Approved by Nutritionists
Made in the UK
Free From
Non-GMO, No Added Allergens, Artificial Colours or Preservatives.
To Use
The recommended dose is:
adults and children 11+ = 1 tablet a day
children between 5 - 10 years old = 3 to 4 tablets a week, totalising 14 tablets in a month.
It can be taken orally with water or can be chewed or sucked, making them suitable for all ages.
Ingredients
Cautions
Well.Actually. Vegan Vitamin D3 food supplement is generally safe to be taken alongside medications.
For specific advice it is recommended that you contact your doctor or pharmacist.
Vegan Vitamin D3 is plant based and safe for the whole family. It has no known side effects.
Take as recommended.
Do not exceed the individual 1 per day recommended intake.