Well.Actually. Super Vitamin C+
---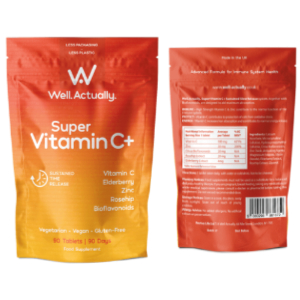 Key Info
Sustained Time Release
With Elderberry
With Zinc
With Rosehip
Bioflavonoids
Description
Super Vitamin C+ is not called 'Super' for just any reason. In fact, there are numerous. This powerful product aids maximum absorption and effectiveness without the necessity for high doses. It is gentle to the stomach (non-acidic) and together with bioflavonoids, provides a sustained Vitamin C slow-release system throughout the day.
Vitamin C has a very long list of EU-approved health claims and is a pivotal vitamin for our bodies. It is suggested for immunity, antioxidant protection, and energy. Vitamin C supports post-exercise, iron absorption, normal collagen formation, and oral health (teeth and gums).
Well.Actually. Super Vitamin C+ time-release system is designed to deliver a gradual release of vitamin C over several hours, which replicates the natural process of food digestion. This means that the absorption of vitamin C into the bloodstream also occurs gradually, creating a more gentle and stable level of vitamin C in the blood for a longer period.
Super Vitamin C+ contributes to:
Immunity: High Strength Vitamin C & Zinc contribute to the normal function of the Immune System.
Protection: Vitamin C contributes to the protection of cells from oxidative stress.
Energy: Vitamin C increases iron absorption and contributes to normal energy release.
Benefits
Gentle to the stomach with maximum absorption and effectiveness.
Sustained slow-release system with a daily source of Vitamin C with Bioflavonoids.
Healthy Immunity
Energy Production
Innovative conscious packaging option
90 tablets/ 90 days' supply
Approved by Nutritionists.
Made in the UK
Includes
Made to the highest quality standards, Well.Actually products are produced within a British laboratory and production facility with GMP and BRCGS global food safety standards accreditation.
Free From
Suitable for Vegetarians & Vegans
Free From Gluten, Dairy, Colourants, Additives, Preservatives
To Use
To boost your immunity, take 1 tablet daily, with water or cold drink. If you feel ill or are run down, you can take up to 2 tablets a day.
Not to be chewed.
Do not exceed the recommended dose.


Store in a cool, dry place, away from sunlight. Store out of reach of young children.
Allergy Advice: No added allergens. No artificial colours or preservatives.
Tablet Colour: As Super Vitamin C+ has no artificial colours or preservatives, the tablets have a natural colour variation. This variation won't interfere with the product quality, efficiency or effectiveness.
Ingredients
Caution
Always read the product direction before use. Food supplements must not be used as a substitute for a balanced diet and a healthy lifestyle. If you are pregnant, breastfeeding, taking any medications or under medical supervision, please consult a doctor or pharmacist before taking this supplement.
Why Use
Why everyone is talking about Vitamin D intake now?
Due to the presence of widespread deficiency, vitamin D supplementation is being recommended for the entire population by many international governments and the UK is providing it FREE to the most vulnerable.
COVID-19 infection is accompanied by an aggressive inflammatory response with the release of a large amount of pro-inflammatory cytokines in an event known as "cytokine storm."
The cytokine storm appears to be one of the common causes of fatalities. Early research has shown that Vitamin D is particularly important in the regulation and suppression of the inflammatory cytokine response.
Continuing research is needed to account for other factors through direct measurement of Vitamin D levels in COVID-19 patients.