Woobamboo Biodegradable Silk Dental Floss
---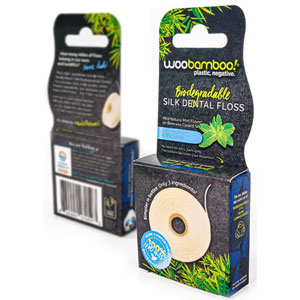 Woobamboo
Biodegradable Silk Dental Floss
20 metres
£6.40 was £8.00 (save 20%)
Add to Basket
Catalog ref: WM-FM
Key Info
Eco-friendly!
Eco-awesome!
Dentist approved.
Description
How many MILES AND MILES of plastic string should one person throw away in their life? With this biodegradable natural silk dental floss; the answer is ZERO! And, we've done away with all of the plastic! The same floss you love now in 100% ZERO WASTE packaging!
Benefits
Made with natural, biodegradable silk
Coated with natural wax
Why Use
Every time regular floss is used it's another several feet (usually) of non-biodegradable plastic string in the garbage! You don't have to be president of the environmental club to imagine what thousands of miles of plastic floss in oceans and landfills can do our planet's animal inhabitants.
Woobamboo floss is made from natural silk.
Ingredients
---
Product Comments & Customer Reviews
" It is AWESOME - best floss i have ever used. Grips very well " AG, Crowborough