USPA Wild Thyme & Peppermint Invigorating Foot Scrub
---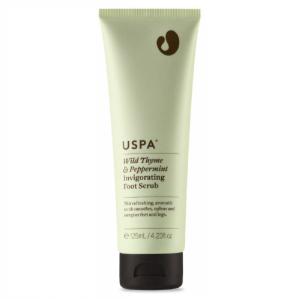 USPA
Wild Thyme & Peppermint Invigorating Foot Scrub
125ml tube
£9.00 was £18.00 (save 50%)
Add to Basket
Key Info
Smooths, softens and energises feet and legs.
Description
Cooling essential oils of Peppermint and Eucalyptus, blended with Wild Thyme help to relieve tired, hot, over-worked feet and legs. Aloe Vera and ground Pumice, soften, hydrate and smooth skin.
Recommended for:
Rough or calloused feet,
Hot, tired or swollen feet,
Fluid retention in feet and ankles,
Poor circulation
Benefits
Skin smoothing exfoliation of fine ground Pumice
Cooling relief for hot, swollen or stressed feet
Essential Oils increase microcirculation to the feet
Includes
Wild Thyme Extract - Powerful antiseptic with astringent and soothing properties. Increases circulation to reduce fluid retention and relieve muscle and joint pain. Revered for its uplifting aroma.
Aloe Vera Juice- Humectant properties help to plump the skin and increase hydration. Amazing skin healing agent that is also mildly anaesthetic to relieve itching and swelling. High in antioxidants including Beta Carotene, Vitamins C and E for nourishing, firming and anti-ageing.
Pumice grounds - Pumice allows for invigorating exfoliation and allows for maximum penetration of active ingredients.
Peppermint, Eucalyptus and Thyme Essential Oils- Refreshing, invigorating aroma.
Free From
Parabens, Mineral Oil, Petrochemicals, Sulphates, Colourants.
To Use
Massage into dry feet, ankles and lower legs, using firm pressure on rough spots or thick skin, and gentle pressure on the thinner skinned areas of the legs and feet.
Place feet into a warm foot bowl and soak for 5 minutes. Carefully rinse away any pumice residue and towel dry. Complete with an application of USPA tangerine and rose body moisturizer or healing hands hand cream for very dry feet.
Ingredients