USPA Immortelle & Jojoba Revitalising Dry Body Oil
---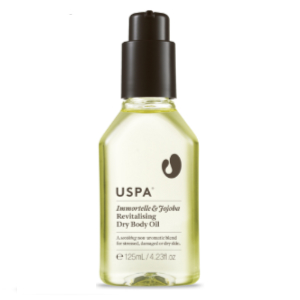 USPA
Immortelle & Jojoba Revitalising Dry Body Oil
125ml pump bottle
£12.00 was £24.00 (save 50%)
Add to Basket
Key Info
Soothing non aromatic blend for stressed, damaged or dry skin.
Description
In a base of luxurious plant oils, Camellia Seed, Jojoba and Sunflower, this blend with soothing Immortelle Extract visibly improves the appearance of damaged skin.
Recommended for:
All skin types, Especially sensitive or those with inflammation. People with nut allergies.
New scar tissue
Benefits
Supreme healing oil, good for new scars
Aroma from extracts only; no essential oil added
Can be used on those with nut allergies (no nut ingredients)
Powerful ability to soothe the skin
Includes
Camellia Oil - Nourishes, softens, soothes and aids healing of scars. Rich in oleic acid and vitamins A, B, D and E as well as EFAs omega 3, 6 and 9. Camellia Oil has more naturally occurring antioxidants than almost any other botanically derived oil.
Jojoba Seed Oil - Contains a waxy substance that mimics the protective wax produced by skin which keeps it smooth, supple and moisturised.
Immortelle Extract - Immortelle has been a revered herb since the time of Homer and the Ancient Greeks. Known as the everlasting flower as it never fades, even after it has been picked. Its essential oil is rich in active molecules offering unique anti-ageing beauty results. In addition to helping heal wounds, it also helps to fade scars and heal stretch marks.
Sunflower Seed Oil - Sunflower Seed Oil is high in Vitamins A, C and D, all of which have protective qualities. It also has an extremely high amount of Vitamin E which is crucial in the prevention of damage to sensitive skin cells by UVA from the sun. It can prevent scarring, smooth the appearance of existing wrinkles and generally improve the appearance and health of skin.
Free From
Parabens, Mineral Oil, Petrochemicals, Sulphates, Colourants.
To Use
After shower or bath apply evenly for hydrated skin. Apply directly to specific area for specialized use. Use with a professional massage therapist for the added benefits of the oil as well as the physical massage.
Ingredients
---
Product Comments & Customer Reviews
USPA - Immortelle & Jojoba Revitalising Dry Body Oil
" This Oil is absolutely brilliant. An amazing product! " EW, Colne