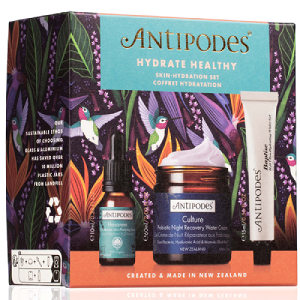 1x gift box
£42.50 was £50.00 (save 15%)
Add to Basket
Catalog ref: TI-201
Key Info
Perfect for most skin types, especially dry and dehydrated
Water-boosting ingredients from New Zealand nature combine with scientific innovation to deliver healthy hydration to thirsty skin.
Scientifically validated natural formulations
Description
Bathe skin in moisture with this skin care set that promises a fresh, supple, youthful-looking complexion. Foster skin that's smooth, plumped, and glowing with good health with this limited-edition skin care gift set, made with ultra-clean, natural formulas.
Culture Probiotic Night Recovery Water Cream (60ml) Calm, clear, and balance your complexion with this innovative night cream featuring good bacteria for healthy skin.
Mini Hosanna H2O Intensive Skin-Plumping Serum (10ml) A certified-organicwater-based serumtoboost collagenand hydrate the skin, for a youthful-looking visage.
Mini Baptise H2O Ultra-Hydrating Water Gel (15ml) Immerse skin in hydration with this ultra-light gel, featuring plant hyaluronic acid and pure New Zealand manuka honey.
Benefits
Culture:Contains Kalibiome AGE Probiotic, to balance the microbiome and optimise skin recovery (Kalibiome probiotics/postbiotics 600: clinically shown to revitalise extracellular matrix). Hosanna:Scientifically shown to stimulate Type I collagen production in human fibroblast skin cells by up to 72%(TrinityBioactives2009). Baptise:Clinicallyshown to increaseskin hydration levels byup to52% after 24 hours(DermatestAustralia, 2019). Hyaluronic acid (plant-based) Holds up to 1000 times its weight in water, to intensely hydrate and protect the delicate skin barrier, resulting in a plumped, fresh complexion. Mamaku black fern The iconic New Zealand native plant is rich inantioxidants to promote healthyskin, with regenerative properties to encourage skin cell turnover. Kalibiome AGE probiotic A powerful non-live bacteria which helps to balance the microbiome, strengthen the skin barrier, and protect against moisture loss. Manuka honey Anatural humectant, it boosts moisture in the skin for a supple complexion.
Includes
Sustainable glass, aluminium, and FSC recyclable cardboard
Free From
Certified vegetarian Free from toxic ingredients
To Use
Each morning after cleansing, press a few drops of Hosanna into face, neck, and décolletage to foster a youthful-looking visage. Follow with Baptise, massaging the hydrating gel formula into skin in gentle upward strokes. At night, complete your skincare routine with Culture, to awaken with a calm, clear, hydrated complexion.
Ingredients