Glow Ritual Vitamin C Serum with Plant Hyaluronic Acid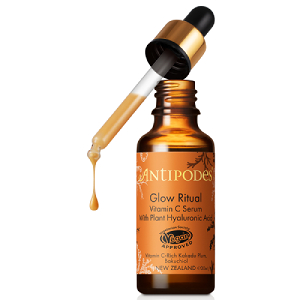 30ml bottle
£31.50 was £35.00 (save 10%)
Add to Basket
Catalog ref: TI-157
Key Info
A light brightening serum for luminous, dewy skin and protection from environmental damage.
Suited to all skin types and great for dull skin.
Description
Achieve glowing skin with this light-wear gel serum for a luminous, dewy complexion. Kakadu plum contains up to 100x the Vitamin C of oranges*, helping to boost collagen, illuminate, and protect from free radical damage. The ultra-clean, natural formula offers instant radiance and defends skin against the signs of early aging. It's your all-day golden hour glow in a bottle.
Benefits
Vitamin C-rich Kakadu plum joins Vinanza® Grape & Kiwi to address pigmentation, help brighten skin, and protect against oxidative stress. The benefits of Vitamin C for skin are many – Vitamin C can help protect, illuminate, and boost collagen for skin that looks radiant and full of life.
Bakuchiol, a gentle and natural retinol alternative, encourages smoother, firmer looking skin while plant-based hyaluronic acid boosts moisture for a plumped visage. Suited to all skin types and great for dull skin.
Wear this Vitamin C face gel on its own under your moisturiser for an all-day luminous glow.
Scientifically shown in-vitro to inhibit oxidative stress in human fibroblast skin cells by up to 33% (Trinity Bioactives 2021).
Kakadu plum has been shown to contain up to 100 times the level of Vitamin C in oranges*. (*Superox-C Vitamin C mg/100g 5300 versus orange 53)
Includes
Key Ingredients
Kakadu Plum
With 100 times the level of Vitamin C in oranges, this potent superfruit contains the world's highest natural levels of Vitamin C to help brighten skin, boost collagen, address pigmentation and defend against damage that can lead to early aging.
Bakuchiol
A gentle, natural retinol alternative, sustainably sourced from the leaves and stem of the babchi plant. Bakuchiol contributes to smoother, firmer skin and contains anti-inflammatory and antioxidant properties.
This natural Vitamin C serum is certified vegan by the UK Vegetarian Society, the oldest and most respected vegetarian organization in the world.
Free From
Antipodes products are completely free from: parabens; sulphates; phthalates; silicon derived ingredients; synthetic fillers; genetically modified (GM) ingredients; genetically engineered (GE) ingredients; animal ingredients (except ingredients from living bees, such as honey); artificial colours; artificial fragrances; chemical sunscreens; mineral oils; petrochemicals (like propylene glycol); phenoxyethanol; BHA (butylated hydroxyanisole); ethanolamines and ethoxylated ingredients.
To Use
Incorporate this Glow Ritual Vitamin C Serum into your skincare routine by following these three steps:
1. Use the Vitamin C Serum every morning
2. First cleanse, then apply a few drops of the serum
3. Gently massage the gel into your face, neck and décolletage using upward strokes
Ingredients