Tisserand Aromatherapy Retreat Shower Wash
---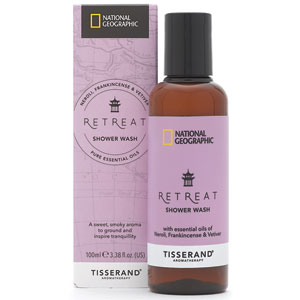 Tisserand Aromatherapy
Retreat Shower Wash
100ml bottle
Discountined, no longer available.
Catalog ref: TD-SW03
Key Info
Neroli, Frankincense & Vetiver Essential Oils.
A sweet, smoky aroma to ground and inspire tranquility.
Description
Drift away to a Far Eastern temple, where twisted trees bathe in the soft haze of early morning sun.
The Retreat blend contains Vetiver, Frankincense and Neroli 100% natural pure essential oils creating a sweet, smoky aroma to ground and inspire tranquility.
In partnership with National Geographic, this range celebrates the positive impact exploring has on our wellbeing, while contributing to a happy planet with recycled and recyclable packaging.
Includes
Floral Neroli relieves stress and restores a sense of optimism and contentment with its sweet, creamy aroma.
Meditative Frankincense can encourage deeper breathing and bring a profound sense of calm to mind and body.
Grounding Vetiver helps to unwind a busy mind and promotes inner strength with its smoky, sophisticated aroma.
Free From
Petrochemicals, SLS/SLES parabens, fragrance, colourants, phthalates
100% natural.
To Use
Apply to damp skin in shower, massage into skin and fully rinse. Use daily.
Ingredients