Skin Revivals Redness Relief Serum
---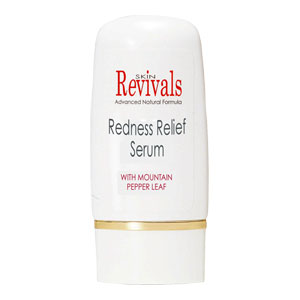 Key Info
With Mountain Pepper Leaf
Description
An ultra light lotion to help reduce reduce skin redness.
It works by using powerful, naturally anti-inflammatory ingredients that soothe the skin.
This light serum is rich in antioxidants to protect against free radicals.a Helps to calm your flushed face and leaves skin feeling smooth and calm. Over time it may lessen the look of broken capillaries.
It's free of fragrance and colour, making it ideal for sensitive and rosacea-prone skin.
Benefits
Reduces inflammation, redness and irritation.
Helps strengthens the capillary walls.
Anti-oxidants help protect from free radical damage.
Keeps skin looking younger for longer.
Includes
Honey – vitamin & mineral rich, soothing and healing.
Sodium Phytate – naturally skin lightening.
Honeysuckles - a blend with both anti-inflammatory and anti-bacterial benefits It is also an effective antimicrobial and a natural preservative. The beauty of this preservative is that it is 100% natural and biodegradable.
Mountain Pepper Leaf - grows in cool areas of New South Wales and Southern Queensland and prized for its leaf and berries, which have varied active ingredients. Mountain pepper berry has amazing antioxidant abilities. A third active in the berries is called - rutin, an anti-inflammatory agent that can strengthen capillaries. Thanks to this, Tasmanian Pepper might be able to help reduce uneven skin tone.
Free From
Parabens, mineral oil, colourants, fragrance, silicones and alcohol.
To Use
After cleansing apply to affected areas or as an all-over serum. May be used alone or as a treatment under your favourite moisturiser.
Use morning and evening or whenever irritation occurs.
Suitable for all skin types.
Ingredients
---
Product Comments & Customer Reviews
" Redness Relief really does work. " EEB, Belfast
" I also apply Redness Serum and Borage Balm which keep my skin calm, soft & wrinkle free " EF, Blaenau Ffestiniog