Salcura Topida Intimate Hygiene Spray
---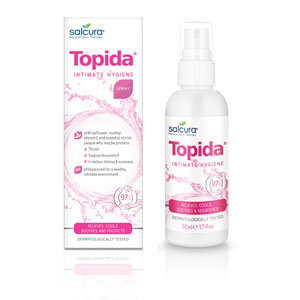 Salcura
Topida Intimate Hygiene Spray
50ml spray bottle
£13.00
Add to Basket
Catalog ref: SQ-TOP
Key Info
Cooling Spray Formula.
Nourishment for intimate skin.
Practical and pleasant to use.
Description
An easy to use spray, providing effective therapy for anyone prone to thrush, vaginal discomfort, irritation, fungal infections, itching or soreness. It provides an alternative to conventional treatments and is ideal for those seeking a natural choice in therapy.

Specifically formulated to soothe, cool and calm by creating a healthy microbial balance on the affected areas.
This effective, quick acting solution balances the pH levels and essential nutrients help maintain skin cells and mucosa in a viable and healthy condition.

This spray offers a far more pleasant and practical alternative to creams and pessaries.
Includes
Manuka Oil
Tea Tree Oil
Sandalwood Oil
Cinnamon Oil
Swamp Bark Oil
Australian Citrus Oil
Marigold Oil
Olive Oil
Lavender Oil
Thyme Oil
Garlic Oil
Fennel Oil
Peppermint Oil
Free From
Steroids
Hormones
Peroxides
Alcohol
Parabens
Benefits
No rubbing , easy spray on action.
For all round daily intimate hygiene.
Supports a healthy balanced micro flora.
Calms and soothes irritated skin.
Acts as an anti-bacterial and anti-fungal agent.
Formulated with anti-itch properties
To Use
1. Apply at least 3-4 times a day initially onto the affected areas.
2. If the area is sore then simply spray on and allow the liquid to absorb on its own accord.
3. Reduce this application frequency as the inflammation and symptoms subside.
4. When skin has returned to relative normality, continue using the products to top up the areas prone to infection with Topida's pH balancing formula 2-3 times per week. This should keep infections and irritation under control.
For external and internal use.
Suitable for anyone over 12 years old.
Ingredients