Salcura Daily Intensive Hand Cream
---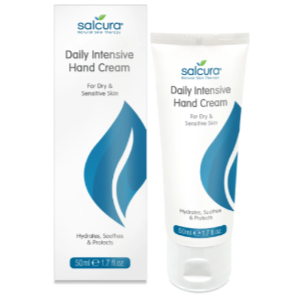 Key Info
For Dry and Sensitive Skin
Hydates, soothe and protects
Daily solution for those with dry, sore and cracked hands
Description
Provides a nutritious boost for hard working hands. Helps restore the protective skin barrier. Fast absorbing to intensely moisturise and protects dry skin.
Suitable For
Cruelty Free, suitbale for skin that may be prone to eczema, dermatisis and psoriasis.
To Use
Apply liberally by gently massaging cream into clean, dry hands. Repeat as often as needed, especially after prolong contact with water or harsh chemicals.
Ingredients