Sukin For Men Facial Scrub
---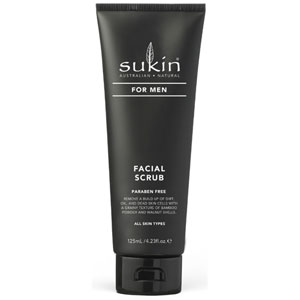 Sukin
For Men Facial Scrub
125ml tube
£7.60 was £8.95 (save 15%)
Add to Basket
Catalog ref: SK-ME05
Key Info
For all skin types.
Remove a build up of dirt, oil and dead skin cells.
Includes Bamboo Powder & Walnut Shells.
Description
Helps to remove a build-up of dirt, oil, and dead skin cells from a natural, grainy texture of Bamboo Powder and Walnut Shells. Sesame and Jojoba Oils work to moisturize and soften skin, while leaving it refreshed and purified!
A masculine blend of Cinnamon and Citrus refreshes the senses.
Benefits
Natural
Vegan
Non GMO
Includes
Aloe Vera Juice
Sesame Oil
Bamboo Extract
Walnut Shell Powder
Jojoba Oil
Cucumber Extract
Chamomile Extract
Burdock ExtractPepper Seed Oil
Cinnamon Oil
Orange Peel Oil
Pepper Seed Oil
Free From
Sodium Lauryl/Laureth Sulphate, Synthetic Fragrances, Silicones, Animal Derivatives, Mineral Oil, Propylene Glycol, Artificial Colours, Triclosan, EDTA, Parabens.
To Use
Massage into damp skin in the shower. Rinse well with warm water. Use once or twice a week.
Ingredients