Remove Multi-Action Hard Wax
---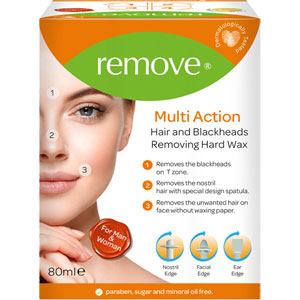 Key Info
Liposoluble Wax for Hair & Blackhead Removal
For Men & Women.
Description
Remove blackheads, hair in ears, nose and face with a single product...
Multi Action, is specially designed to get rid of blackheads and unwanted hair on your face. You can apply wax in T area, inner ear and inner nose areas on your own, in a practical and extremely easy way.
Multi Action, which could be warmed in all oven types, easily purifies blackheads and removes the hair around lips and face without using strips.
The spatula which provides easy application in different areas and is patented, has three different applicators such as "inner nose", "wide area" and "inner nose". To provide hygiene and convenience in future uses, there are 6 spatulas in the package.
Benefits
Efficient hair removal in 4 areas
Cleans blackheads in T area
Can be used without strips for the hair around lips and facial hair
Cleans the inner ear and inner nose hair with specially designed spatula
It can be heated in all kinds of ovens.
It freezes when applied to the skin and enables to remove the hair without strips.
It only sticks to the hair.
It is produced from beeswax.
Dermatologically tested.
Box Includes
1 jar of Liposoluble Wax 80 ml
4 Lip Protecting strips
6 Remove After Wax Cleaning Wipes
6 (3 Applicators with different tips) Spatulas
1 User Instructions
Spatula: There are 6 different spatulas with 3 different tips in the product package. The "conical shaped" tip of the spatula is designed for outer ear, "semicircle shaped" tip is designed for nostril and "wide shaped" tip is designed for T, lip and cheek area.
There is a safety barrier under spatulas with the "conical shaped" tip for ear and "semi-circle shaped" tip for nose. During application these safety barriers should stay out of ear and nostrils and you shouldn't force them into the holes. If the spatula is used in a way that safety barriers get into the ear and nostrils, the product may cause harm on sensitive tissues in nose and outer ears while removing hair.
Free From
It doesn't contain rosin resin, paraben, mineral oils and sugar.
To Use
Normal Oven: Do not put the product in a pre-heated oven. Start heating after putting the product in the oven and ensure that heat is not over 100°C. The package of the product can only be heated up to 100°C. Without exceeding 100°C, continue the heating process until the product reaches fluid honey consistency.
Microwave Oven: If you want to heat the product in microwave oven, bring the power setting to high level (maximum 600 W) and heat for 6 minutes. If there isn't a power setting in the oven, bring to the highest level and heat for 3 minutes. If it isn't in fluid honey consistency, continue to heat with intervals of 1 minute, until it reaches fluid honey consistency. The product's heat of usage shouldn't exceed 54°C. If half or less than half of the wax remains in the package after the first use, ensure that the product stays only 2 minutes in the microwave.
Hot Water: If you prefer to heat the product in hot water, place the product in hot water which doesn't surpass the filling level of the product and heat until it reaches fluid honey consistency.
In all heating methods, keep package cover and protection cover in the package closed. Do not touch the product without protective gloves or similar measures to prevent any burns on your hands.
Ingredients