Remove Ready To Use Body Wax Strips
---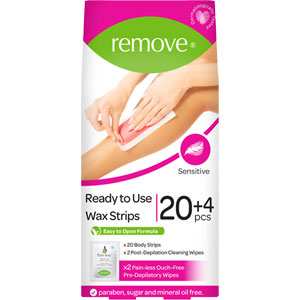 Key Info
Description
Regardless of your skin type Remove Cold Body Wax Strips ensure that you have a soft and smooth skin tfor up to 4 weeks.
Strips are shaped for the body area making them easy to use.
A safe and relaxed waxing experience thanks to the special formula ofl herbal oils and nectars.
Remove After Wax Cleaning Wipe ends the depilation process comfortably and care for the skin after waxing.
Box Includes
20 Strips for arms and legs
2 pcs PAIN-LESS Ouch-free pre-depilatory wipes
2 pcs perfect finish wipes
Includes
Safflower Oil
Beeswax
Free From
Rosin resin, paraben, mineral oils and sugar.
Dermatologically tested.
To Use
1. Apply Pain-less Ouch free wipes on your skin before starting depilation. Make sure that your skin absorbs the Pain-less oil solution completely. In case of any residues of oil solution dry your skin with a clean tissue to make sure that your skin is dry.
2. Rub strips between your hands for 4-5 seconds in order to split the strips easily.
3. Gently detach the double strips.
4. Apply the single strips on your skin towards hair growth direction
5. Pull the attached strips quickly towards the opposite direction of hair growth and parallel to your skin.
6. Apply the perfect finish wipes on the depilated area in order to remove the wax residues and nourish your skin.
Ingredients