Rosewater Skin Tonic
by Martha Hill
Gentle toning lotion.
With rose flower water.
Good for mature and sensitive complexions.
Description
We have used a traditional 'old fashioned' recipe to create a really mild, gentle and balancing tonic.
Perfect for dry or sensitive skin and lightly astringent, this clear lotion has a deliciously calming rose fragrance and will help to refine pores, improve skin tone and re-hydrate.
Soothes minor irritations and leaves skin smooth, supple and revitalised.
This gentle tonic revives tired-looking skin helping to promote a bright radiant complexion.
Includes
Witch Hazel
Rose Geranium
Free From
Parabens preservative. Artificial colour and fragrance.
Other
Cruelty free. Made in the UK.
To Use
After cleansing moisten a cotton pad with toner and stroke over your face and throat using upward movements, avoiding your eyes. Allow to be absorbed and then apply moisturiser.
Re-apply during the day to cool and refresh.
Related Products
Rosewater Skin Tonic compliments the following Martha Hill ranges:
- Honey Skin Care Range
- Evening Primrose Skin Care Range
- Mimosa Hydrating Skin Care Range
About Rose Flower Water
Rose flower water is a gently cleansing and toning ingredient and suitable for all skin types especially mature, dry and sensitive. Maintains the pH balance, stimulates regeneration, reduces the visibility of broken capillaries and has a calming effect in acne and skin irritation. The fragrance is also soothing and calming to the mind.
About Witch Hazel
It has a long history of use primarily to treat inflammations, bites, stings and skin sores and bruising. The extract acts as an astringent, firming and tightening tissue and helping reduce itching and irritation.
Comments & Customer Reviews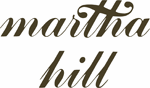 Martha Hill
Serious herbal skin care for over 40 years.
With the original range formulated in the late 1960's Martha Hill was well ahead of her time in producing a range of skincare products based on the purest natural ingredients.
All Martha Hill products are formulated to react to your skin's daily needs. They are finely balanced to ensure that your skin receives the care it deserves. Based on a carefully researched combination of the finest natural oils and extracts they are designed to cleanse, tone, moisturise and nourish: the four essential steps to a healthy, glowing complexion.