Protective Lip Balm
by Martha Hill
Presented in a biodegradable card pot.
Creamy rich, hydrating lip treatment.
Description
This rich, solid cream helps repair dry, chapped lips and prevents moisture loss.
Both moisturising and soothing, it is ideal for outdoor protection from windburn and exposure to the elements.
The subtle vanilla and peppermint fragrance refreshes lips while the UVA/UVB sunscreen helps keep them protected from the sun.
Includes
Castor oil
Aloe Vera
Coconut oil
Allantoin
Free From
Parabens.
Comments & Customer Reviews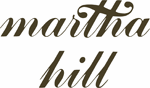 Martha Hill
Serious herbal skin care for over 40 years.
With the original range formulated in the late 1960's Martha Hill was well ahead of her time in producing a range of skincare products based on the purest natural ingredients.
All Martha Hill products are formulated to react to your skin's daily needs. They are finely balanced to ensure that your skin receives the care it deserves. Based on a carefully researched combination of the finest natural oils and extracts they are designed to cleanse, tone, moisturise and nourish: the four essential steps to a healthy, glowing complexion.